How to set up and use Kantree project forms (like we do)
10/05/2019 - Updated on 18/07/2023 - Pola
Kantree is a collaborative work management software tool that helps you stay organized and productive. When tasks, deadlines, and files are kept in one place, you will not waste time looking for them. 
[Related reading: Kantree Inbox, an easier way to track your work]
While creating your team's workspace in Kantree can be done in a few clicks using our templates, managing projects that involve input from third parties is often more complex and therefore time-consuming. 
Thanks to Kantree project forms, it can be done more efficiently, in less time.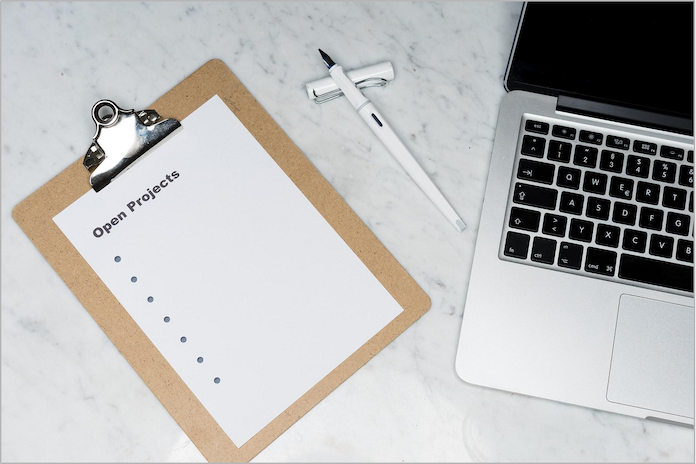 Kantree project forms are a time-saving way of collecting customer feedback or work requests and turning the data into actionable items in your workspace.
What are project forms and why use them? 
Forms are a simple solution to allow "external" people to create cards in your Kantree workspace. Those can be other teams within the company or outside parties, such as collaborators, existing and potential customers, or job candidates. 
Instead of using email or chat to collect work requests or gather information from the customer, then spending time on data entry, you can use forms to improve the process flow.
Kantree forms allow you and your team members to:
easily collect information, then keep it organized and accessible at any time; 
automatically turn data into actionable items, visualized on a Kantree board (e.g. kanban or table similar to Excel and Google Sheets);  
eliminate inputting information into external spreadsheets; 
send messages directly from Kantree, therefore reducing email clutter. 
[Related reading: 3 tips for how to set up a kanban board]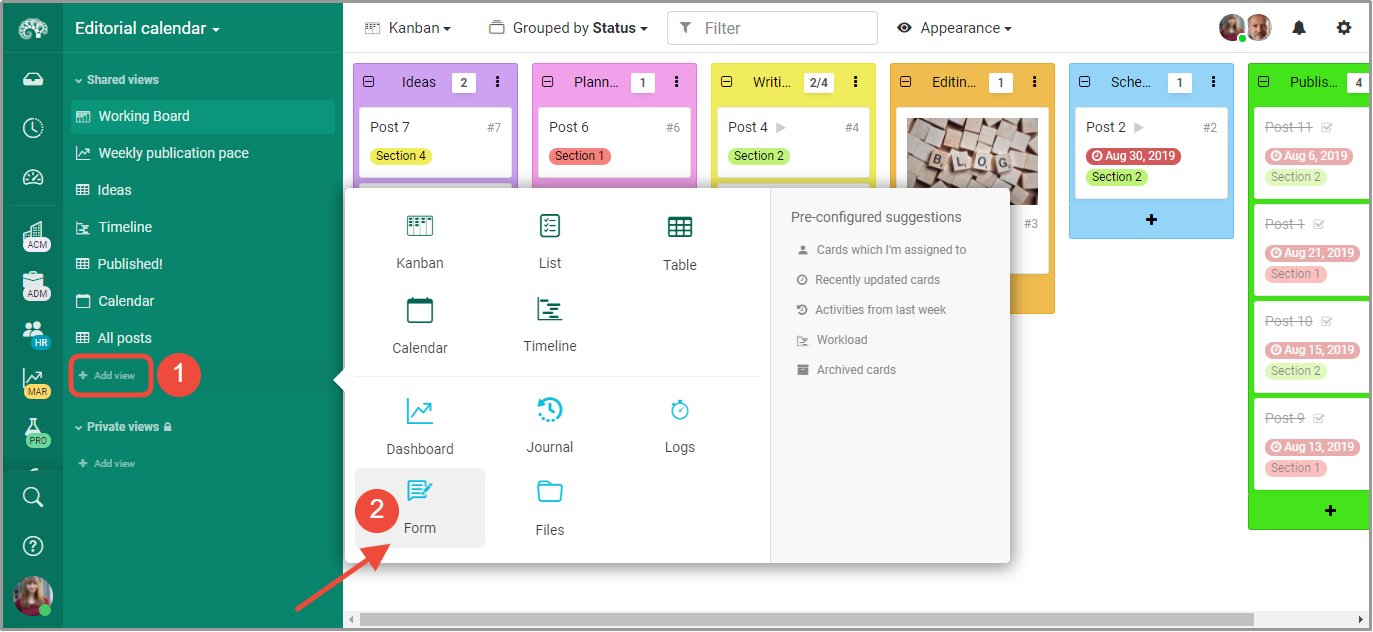 Kantree forms are managed like views in workspaces. Click "Add view" in the project sidebar to add a new form, then customize it.
Getting started with Kantree project forms
Forms are managed the same way as views in Kantree workspaces and can be added to any project. To create a new form, follow these four simple steps: 
SET UP: Go to your chosen workspace, then click "Add view" in the project sidebar and select "Form" in the pop-up menu. The form will be added to the sidebar for easy access later on.
DESIGN: In the next screen, add a form title, description, and fields from your workspace (click on the ➕ icon to see options, then mark as required if needed). You can also customize the background and select advanced options for once the form is submitted.

Use advanced options to make email address mandatory or allow anonymous responses, set an auto confirmation email, and specify where new cards will be created (i.e. which column in your kanban board).

Tip: If you want to communicate with submitters directly in Kantree (recommended), check the box next to "Allow requester to post comments after submitting the request."
MANAGE PERMISSIONS: Choose who will have access to the form - workspace members, members of the organization, or anyone with the link. Use the last option if you plan to post the form on your website or channels.
SHARE: Once the form is created, click the "Share" button in the top right corner to get a sharable link.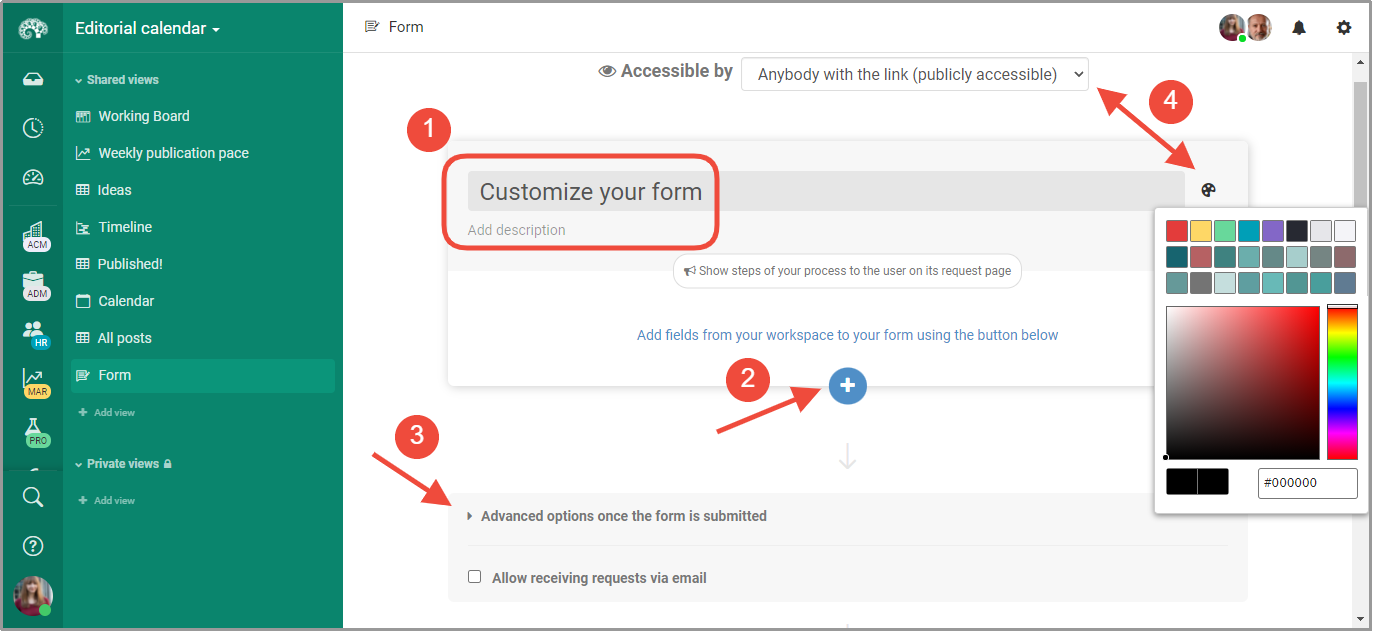 In a few clicks on one page, you can add a title, description and fields from your workspace, change colors, choose who can access the project form, and more.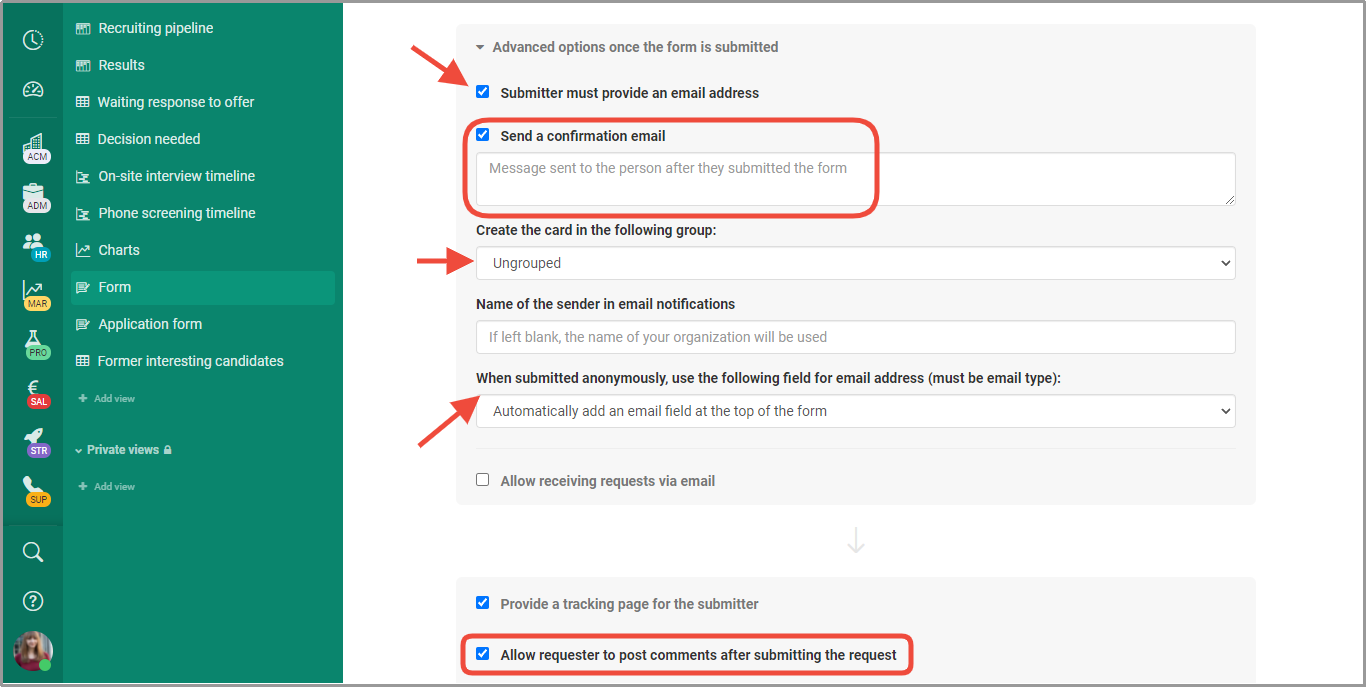 Under advanced options, you can choose to collect emails and names or accept anonymous responses, set up an auto confirmation, and allow interaction with submitters via cards.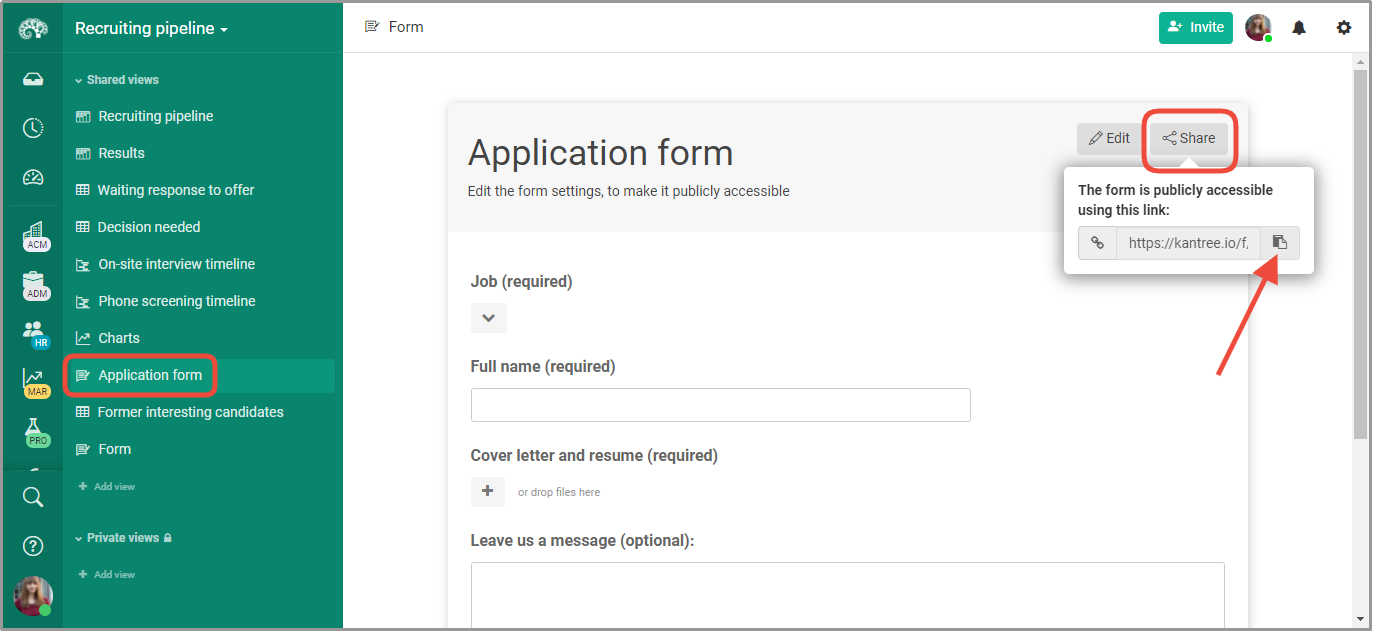 Access forms from the project sidebar and share them with third parties via link.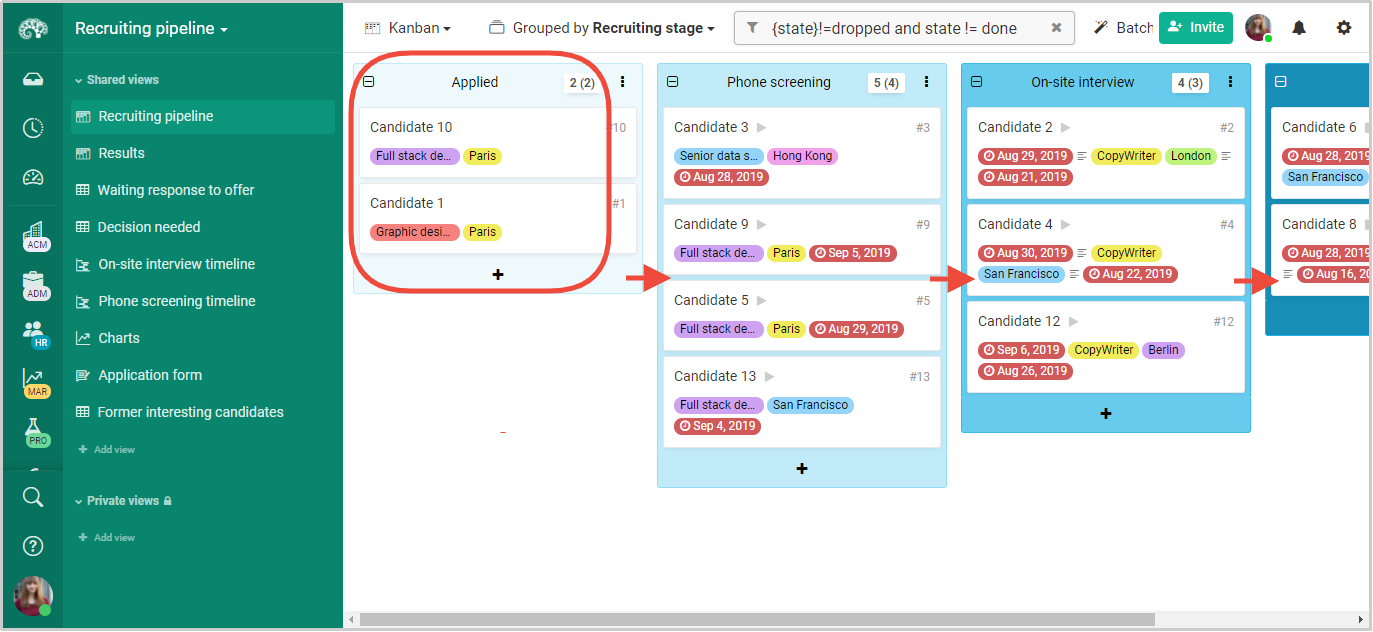 Each time someone submits information using a Kantree form, a new card is created in your workflow. Here's an example of a recruiting pipeline.
How our team uses project forms
For us they are useful recruitment, customer support, and sales (of course, you can customize the forms to fit your needs). Let's have a look.
1. Collecting job applications
This is a time-saver for HR departments, tried-and-tested within our company. 
You can use Kantree forms in your recruiting process to allow submitting applications (CVs, cover letters, portfolio samples) and keep track of them easily. 
Once you've created an application form, post it on your website or link to it on social media. When someone submits information, a new card will automatically appear in Kantree, in a column you chose earlier (e.g. Applied or New Candidates).
After that, you or your team members will be able to communicate with the applicant using comments in the card, without having to use email. When they reply, you will see their message directly in the same card. Drag and drop the card to the next column once the candidate completes a step in the process.
[Further reading: How to use Kantree for recruiting]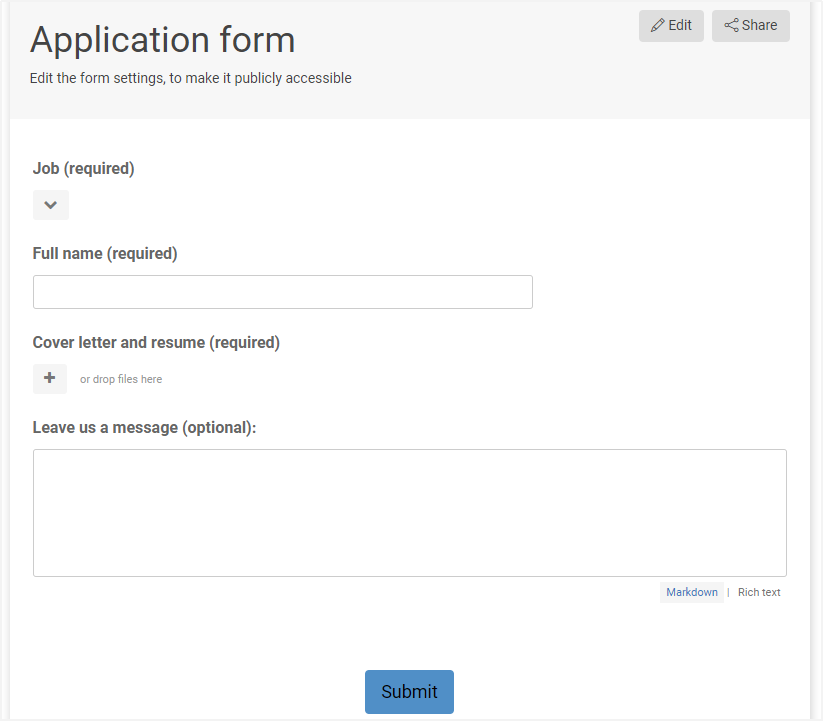 2. Collecting customer feedback
If you work in sales, marketing, or the IT department, this should come in handy. Kantree forms are a great way to gather information from the customer (e.g. product reviews or feature requests) or collaborators (campaign feedback, content ideas). 
In our case, we use forms to allow users to report issues or give feedback on Kantree's functionality. A good example of that is our Roadmap.
The kanban board shows the work we're currently doing and our planned features. Users can submit feedback through a form, which lets us keep the ideas in one place and eventually incorporate them into Kantree. By sharing this roadmap, we keep our users in the know and give them a way to participate in the development.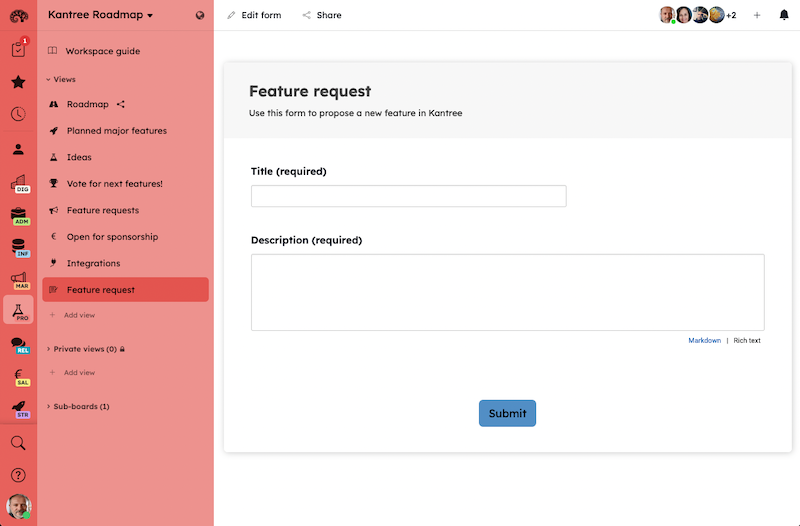 Our public roadmap allows Kantree users to submit feature requests, which are automatically transformed into cards in a kanban board.
3. Contact page / project request form 
When you replace traditional contact forms on your website with ours, you further cut down on email clutter and keep your leads organized.
This is a good solution for sales and business development departments in need of a customized project request form (without the extra cost). When a potential client contacts your company, their details will be captured in a Kantree workspace (in our case, the sales pipeline or product demo board). Just like with job applications and feedback forms, you can communicate with the sender directly from the card.
The form will integrate into your website seamlessly, i.e. user experience will not be altered.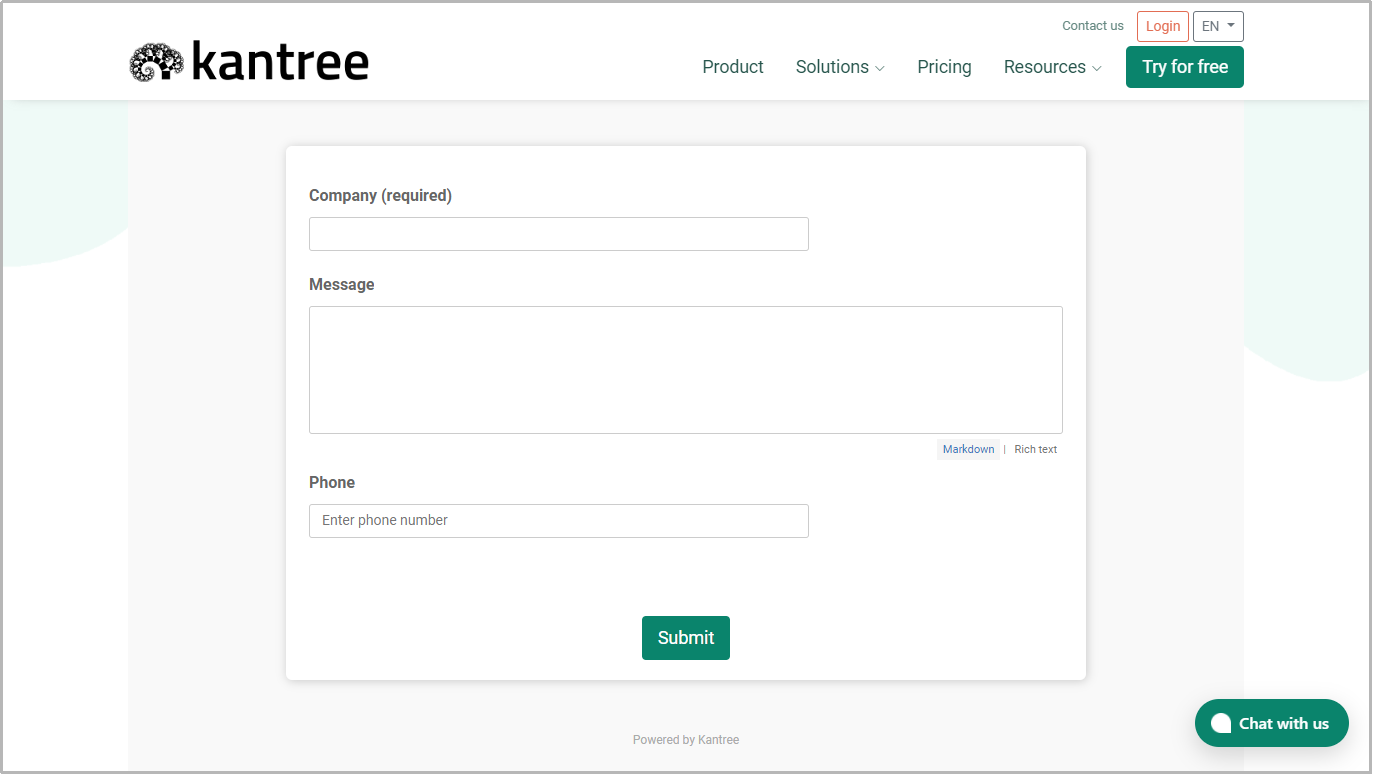 When you embed Kantree forms on your website, they will integrate seamlessly and the user experience won't be affected. Pictured: a contact form on our website.
Try Kantree free for 15 days and start managing projects on your own terms. Questions? Email us.
---