Welcome to Kantree! This guide will help you get started with the app.
If you prefer watching a video, here is a short get started that will guide you through all the topics in this article.
Create a team
In Kantree, projects belong to teams. You can think of them as a place for your team, business unit, or company to collaborate. You can invite colleagues to your team and work on projects together.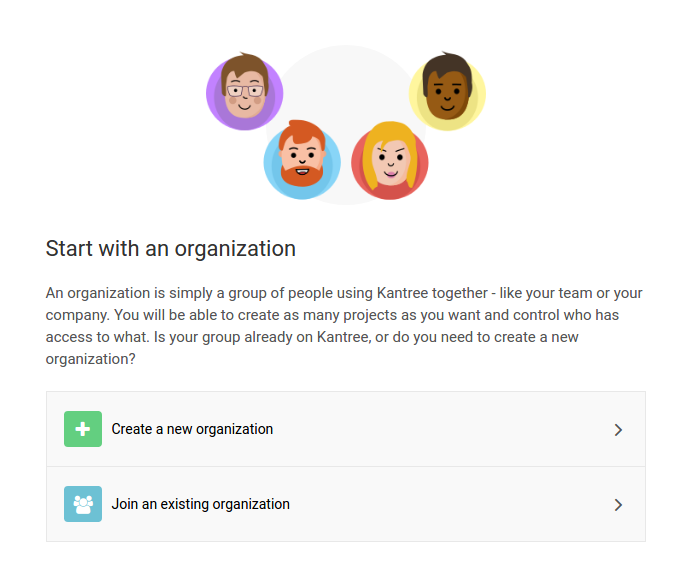 After signing up, the first screen you will see is the team creation form. Simply enter a name to continue.
If you want to join an existing team, ask one of the members to invite you.
Create a project
Once you set up your Kantree account, you will land on the dashboard page. It's time to create your first project and get things done!
Click on the big + New project button. A new window will pop up.
Give your project a name. Don't worry, it can be modified in the project settings whenever you want.
You can configure who can access the project. By default, all members of the team can see your project and join it by themselves. Read more about permissions in the collaboration guide.
Choose a template to kick-start your project. For now, keep Simple project and click start.
You can import a project from another service like Trello, Asana or Github by clicking the Import from other services button.
The basics
Before diving into how to customize and work with projects, here is a quick overview of some of the major concepts: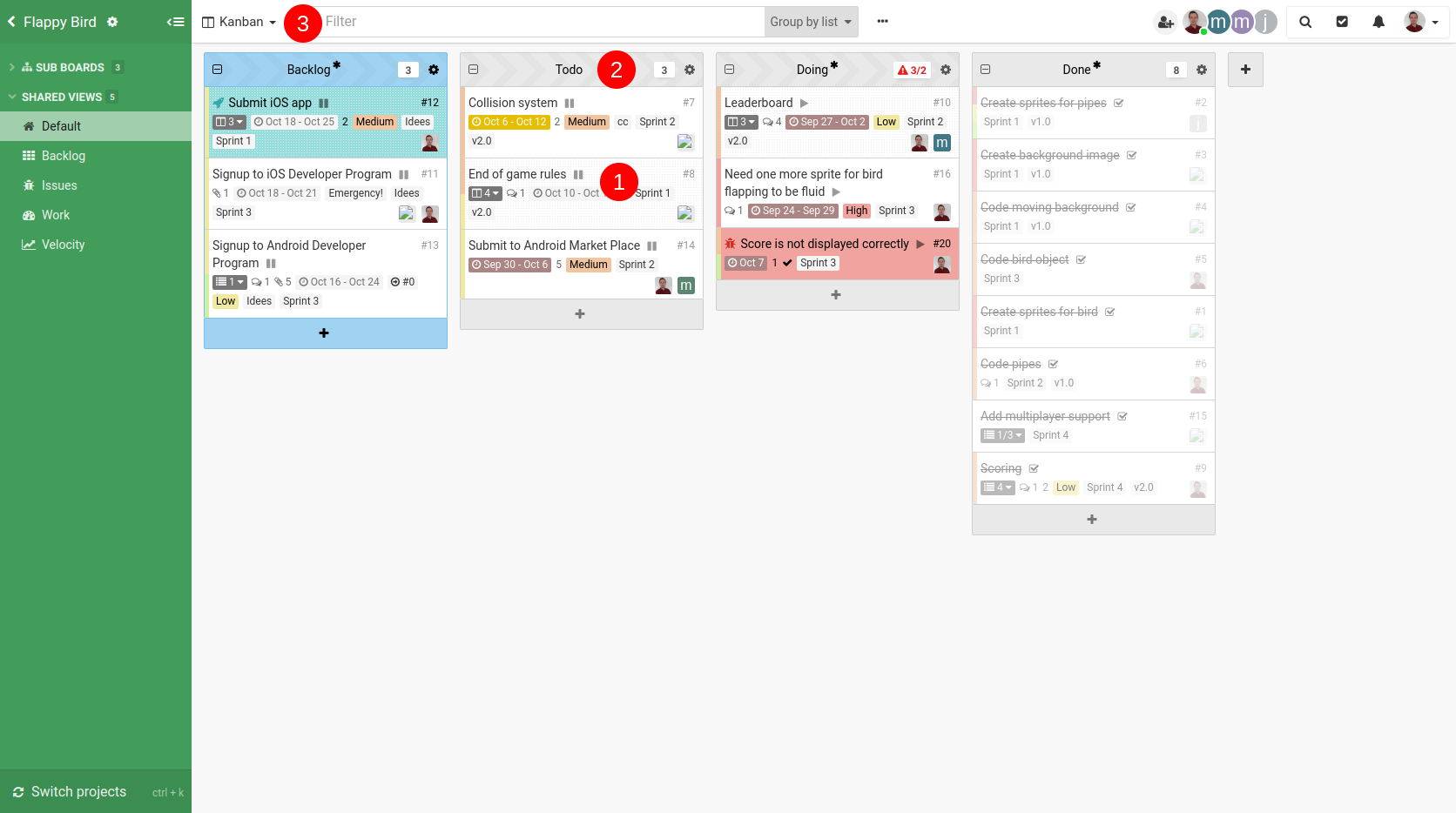 At the heart of any project you have cards. Cards are the simplest items in your project and usually represent tasks and ideas: anything that needs to get done, like a sales call or bug resolution, or remembered, like a meeting report or business contact. You can create as many cards as you want. Cards are fully customizable (more on this in the customization guide).
To give more meaning to your cards, you can organize them into groups. These groups can help you manage the workflow of your tasks or help you sort ideas or business contacts. You can have multiple sets of groups in the same project, which gives you multiple ways of grouping your cards (more on this in the customization guide).
Finally, your cards and groups in a project can be displayed using different tools. The Kanban board is one of them and it usually is the default one for your day-to-day work, but you can also leverage the other tools (calendar, timelines, reports, table, journal, reports) for specific needs.
The project workspace
There are 4 distinct areas on your screen :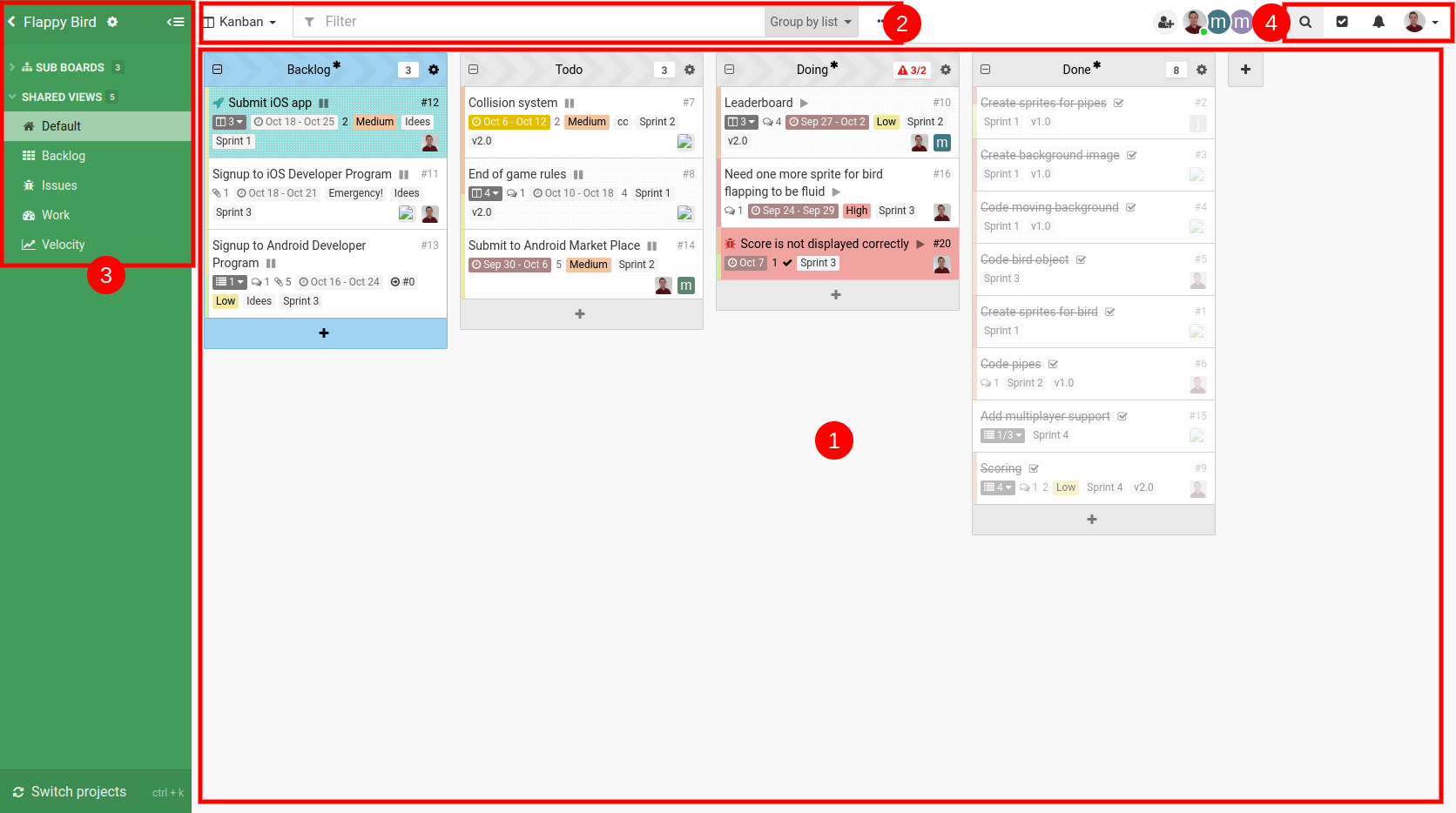 The main area is dedicated to the content of your project. Depending on the tool (e.g. Kanban, Timeline, Journal, or Reports), you will see your cards and groups differently.

The top bar is used to change the way you view data. You can:

change the tool (e.g. Kanban, Timeline, Journal, or Reports)
modify filters or how you group cards (if available in the selected tool)
save and activate configured views (a view saves the current tool, filter, "group by," and a few others options, depending on the tool).

The sidebar is where you can access project settings, save views and navigate through them. It is also used to navigate between projects.
The user corner is where you can access your account, notifications center, and a panel called My tasks. The panel shows all the cards assigned to you and not marked as done, from all your projects. Here you will also find a search button that lets you find all the cards you have access to (across all teams and projects).
Now that you have a basic understanding of your project workspace, perhaps you can invite your team members to work together.
Add cards and columns
In an empty project, you will start with an empty Kanban board without any columns or cards.
Click the + button to quickly add columns.
We recommend using them to represent different steps in your project workflow. This makes it easy for everyone to have an at-a-glance view of the project's progress. The simplest columns are To do, Doing, Done.

Then you can start adding cards to your project workflow.
Click Add a card at the bottom of a column to create a new card.
In our case, cards represent actionable work items.

By dragging and dropping cards and columns, you can:
move cards between columns
re-order cards vertically in their columns
re-arrange columns horizontally within the board.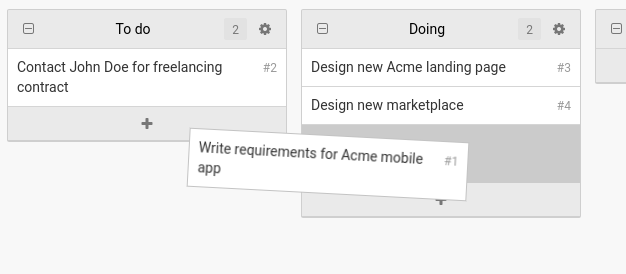 Card overview
Cards are more complex than just a title. You can add a lot more information to them, which will help you collaborate with your team more easily.
Just click on a card to access its content: this is the card view. You can either choose to open the card in a new window or on the right side of your project workspace.
Card layout
Here is what you can find in the card view: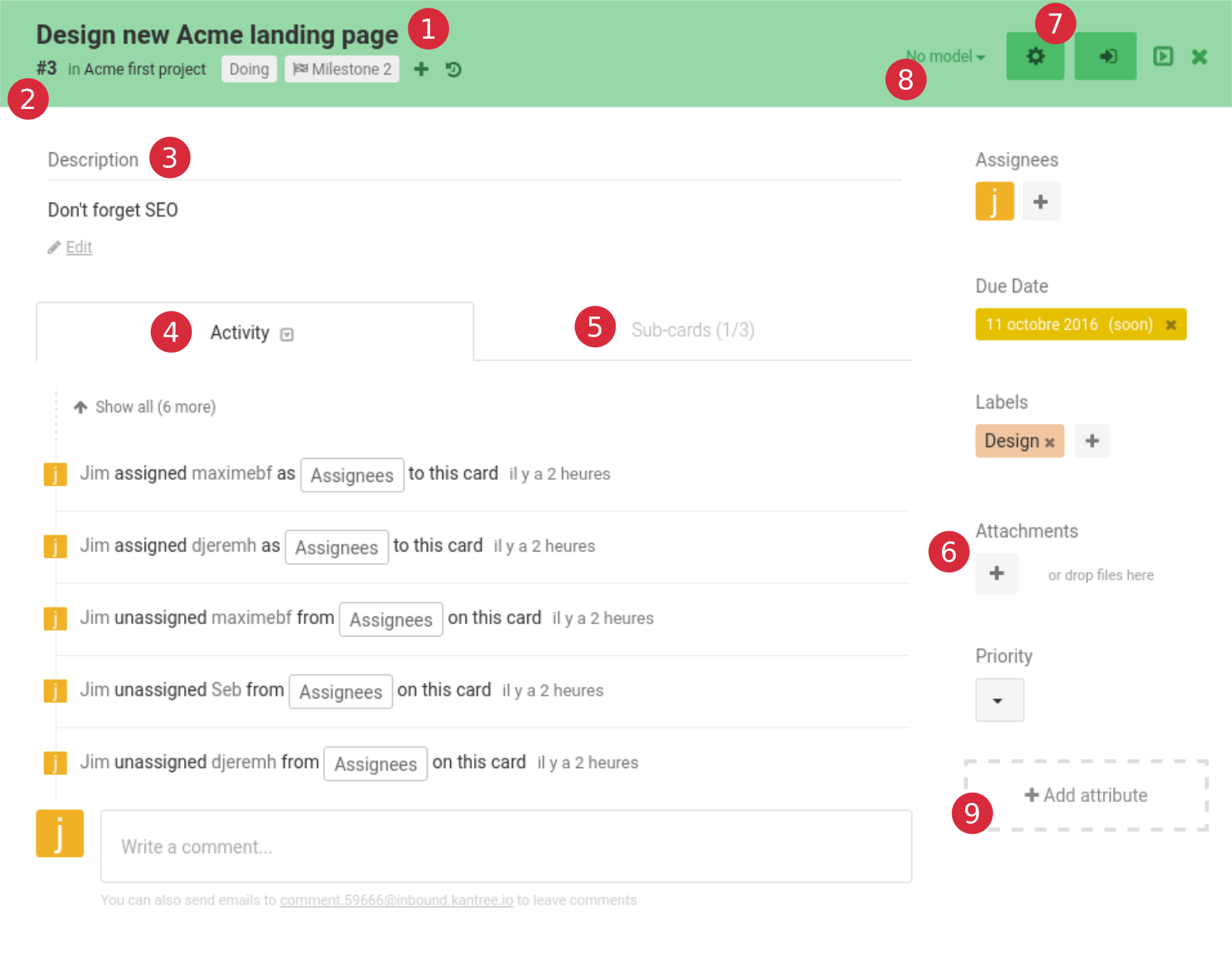 Title: Name of the card. Click to edit
Reference of the card: Unique identifier of your card in the project
Description: Field of your card that let you add some text content to it, like describing an idea or how to reproduce a bug
Activity: List of all the comments and changes made to the card. You can add new comments or logs data
Sub-cards: Add sub-cards to the card. This sub-cards are real cards you can open by clicking on them, and so give them due dates and assignees
Fields: Add any type of content to a card. Kantree comes with some built-in fields, but you can add your own)
Card action menu: Archive, Copy, Move, Delete and more
Card current model: a card model is a saved card structure which define what fields your card can have or which color your card has.
Add Field button (project admin only): Let you add field to the current card model. If the card has no model, the field will be added to the default field set available for every card in this project (learn more in the customize card guide)
Edit card fields
Fields are pieces of information attached to the card. By default, cards include the following fields:
Description: text content describing your card.
Assignees: Assign member to this card. They are automatically subscribed to the card activity.
Labels: colored tags to easily spot and filter related cards
Due date: date for when the card is due. Assignees will be reminded 24h before by email.
Attached files: upload file attachments
Kantree lets you add more fields and customize the layout of your cards).
Comment cards
Comments allow you to discuss about a card with your collaborators. You will find them under the Activity section of your cards. They are updated in realtime.

You can either choose to use our rich-text editor or our markdown editor. Note that Kantree supports the Github flavored mardown.
Mention members in a comment with @username to notify them about a comment. This makes it easy to request their attention and invite them to the conversation as-it-happens.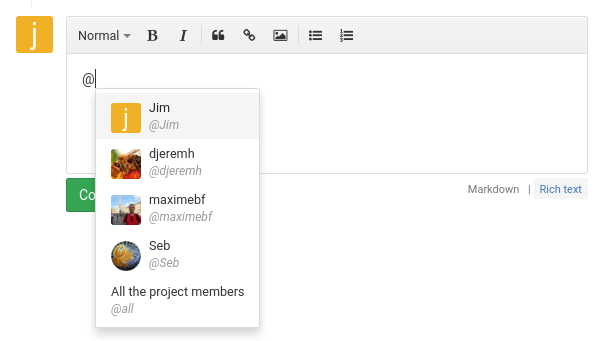 Link to other cards by including the card reference #id. This allows anyone to open the target cards directly from the comment.
Add sub-cards
Add sub-cards to a card from the sub-cards tab. A sub-card is itself a card!
From this list, sub-cards can be renamed, mark as completed or opened as a card by clicking on its reference.
You can display your sub-cards right in your Kanban! Just click on the number of sub-cards button.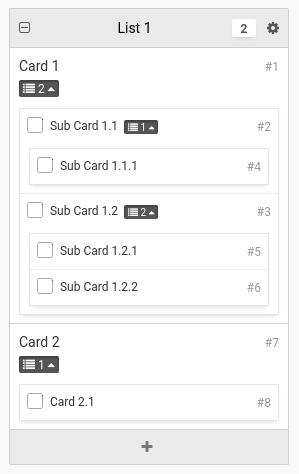 Customize your cards
In your projects you certainly have different work items, which require taking different actions on them, and having different ways of specifying them.
Cards are customizable to reflect this variety, proposing various types of fields.
Only the admins of the project can manage card models.
Change the model of your card or add a new model quickly in the card view.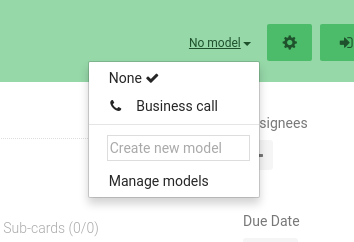 You can also manage (edit and delete) the existing fields or add a new field in your card current model directly in the card view.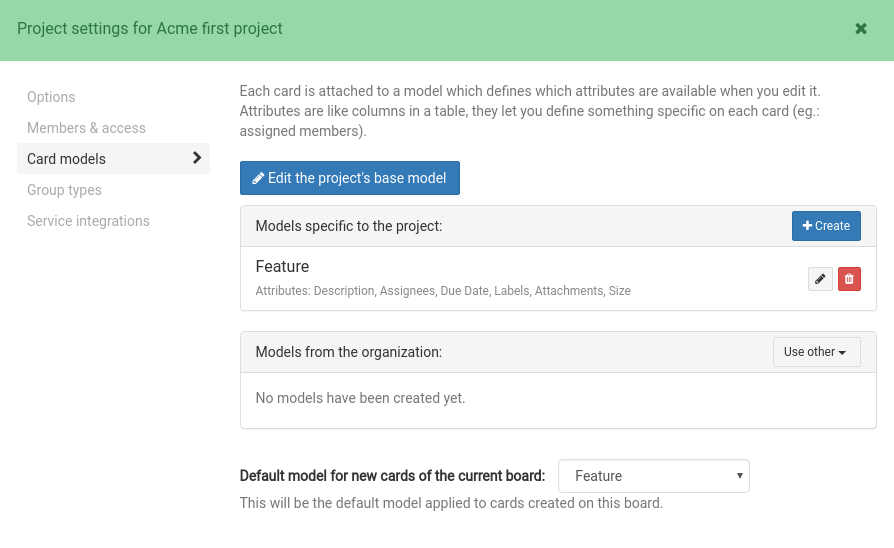 Check out the customize cards guide for more information.
Filter cards
To filter cards on the board (ie. search through them instantly) click on the filter box in the top bar.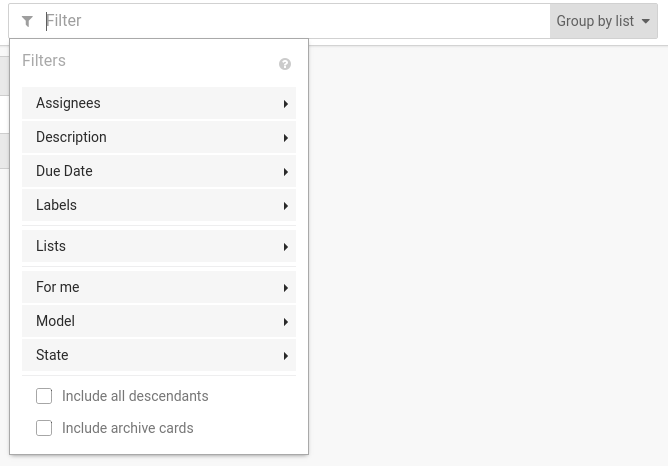 Just type text to search through card titles. You can also use the various options in the filter dropdown to create more precise searches.
Kantree features a powerful query language called KQL (Kantree Query Language). It allows you to make advanced searches in your project very easily. Learn more about KQL.
We will see further down how to save a filter for easy re-use using views.
Group by contexts or fields
Since the beginning of the guide, we stayed in the Kanban board, creating some columns representing a workflow. What if we need to create some milestones in our project and add cards in them?
There comes the group by menu: you can select new ways of grouping your cards in your project view.
The default ones are :
Lists: basically used for the workflow of your project
Milestones: to plan your project by iterations
Assignees: Sort your cards by assignees. Assignees come from the card fields.
Labels: to specify different topics or subjects for your projects. Labels come from the card fields.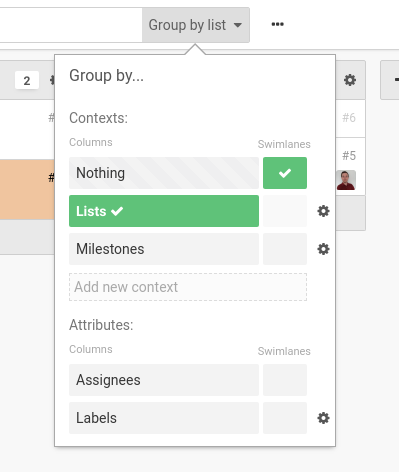 Using the Kanban board, choose Milestones in the group by menu, and quickly add some milestones.

Drag and drops cards and reorder columns, like you already learnt before.
When a card doesn't belong to any group of the group by, it is placed in the ungrouped columns
Lists, Milestones and Labels can be customized pretty heavily using their settings menu.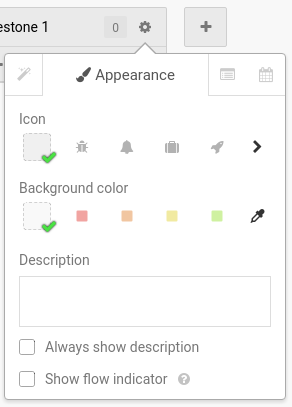 For more info see the customization guide and how to organize a project.
Get started with swimlanes
You've probably seen the swimlanes column in the group by menu.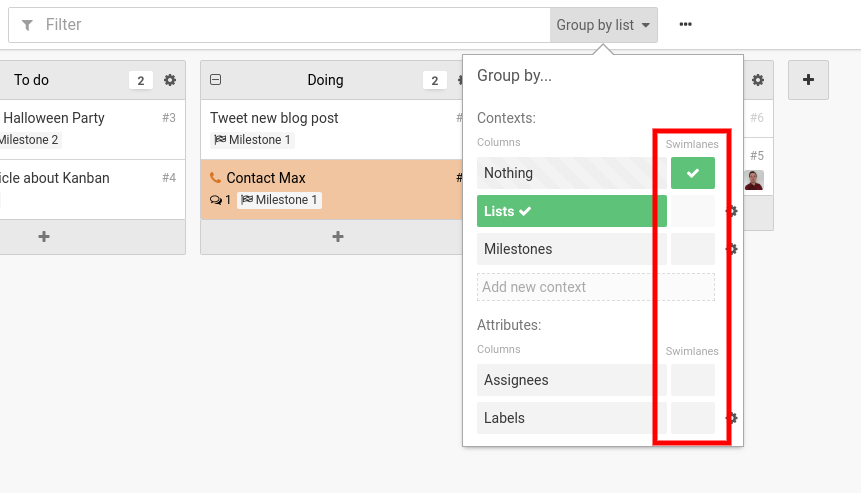 It lets you choose a context or field that will transform your columns in a 2-dimensionnal table.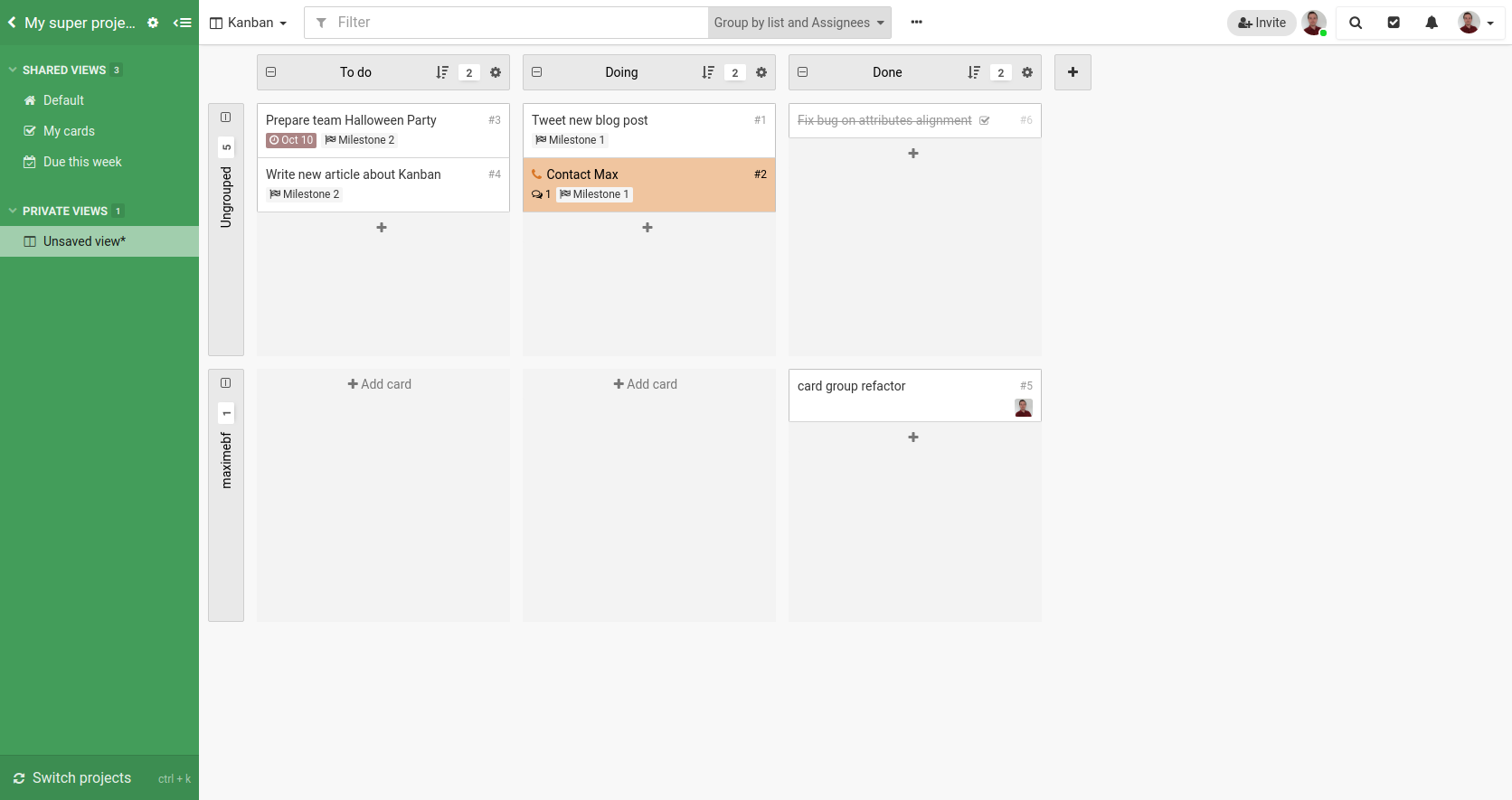 In our example, you will have your workflow from right to left (columns), and your assignees frop top to bottom (lanes).
You can create cards or drag and drop them between your table cells, you can reorder you columns and lanes or hide those you don't want to see.
Check out a more complete description of the swimlanes in our guide.
Save a project view
By choosing a tool, a group by and a filter, you can have pretty specific views of your project.
For example, I want to see all the cards assigned to maxime in the table view: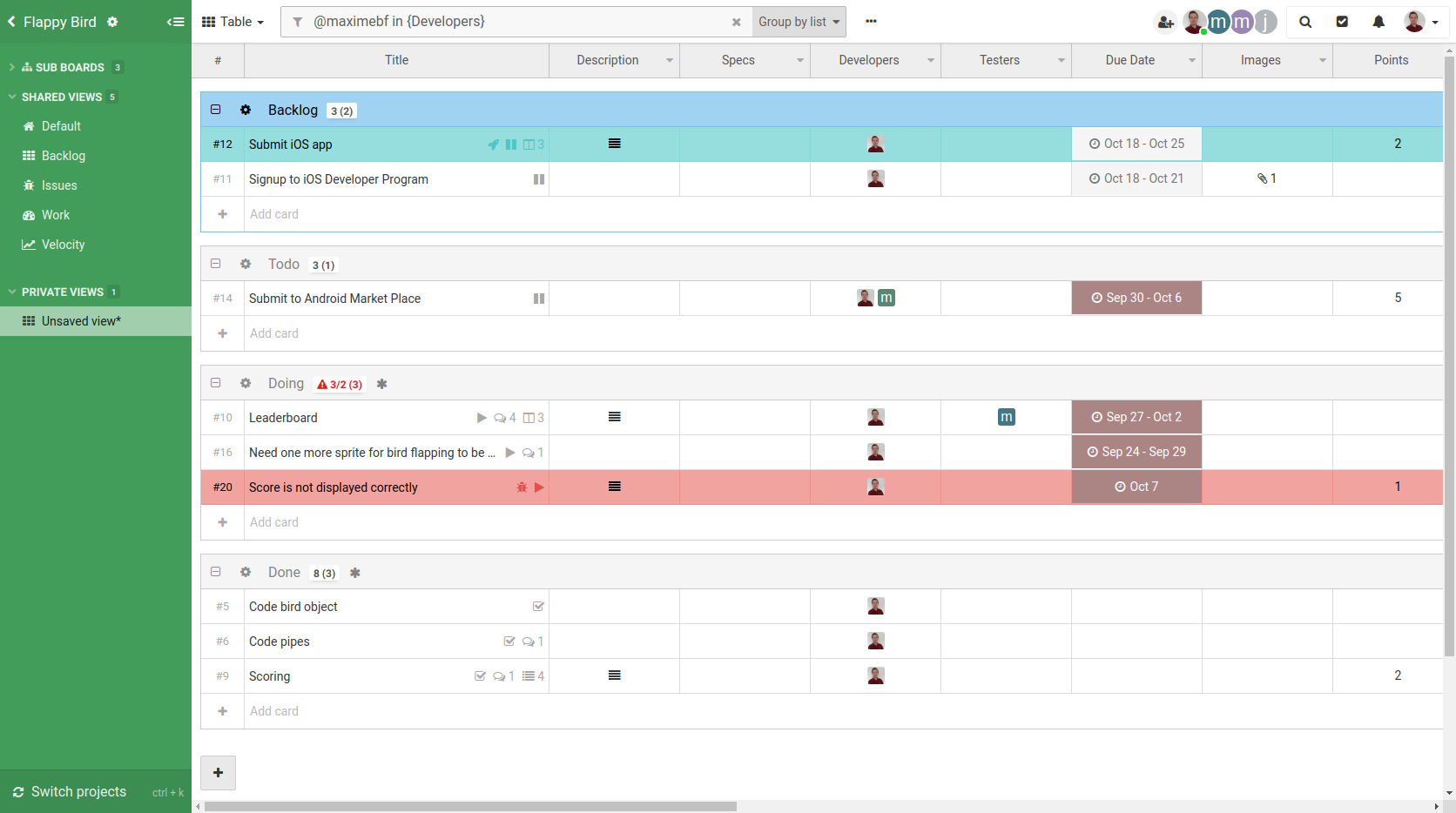 To save time on your daily work, we let you save your Project view configuration. Click on the 3 small dots on the "Unsaved view" item in the sidebar.

Simply name your new view and that's it, you can quickly access to it whenever you want.
You can also edit existing views: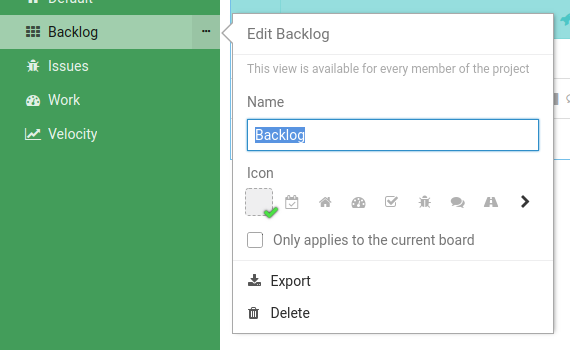 Take advantage of this feature to save smart shortcuts for your projects.
Kantree comes with 3 builtins view that I let you discover on your own.
More on the view system in the organize a project guide.
Switch between tools
Kanban board is not enough to work efficiently on a project.
What if I have critical due dates?
What if I want to track time and costs?
What if I need to gather feedback from people external to my team?
What if I want to monitor the productivity and progress of the team?
Yeah, Kantree has tools which adress all of that!
Learn more about the other tools in the guide organize your project.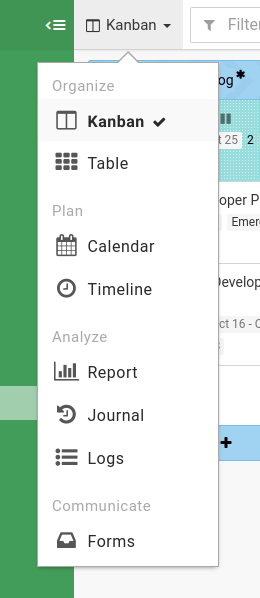 Working with third-party services
Kantree lets you connect external services to import and/or sync your data from other applications.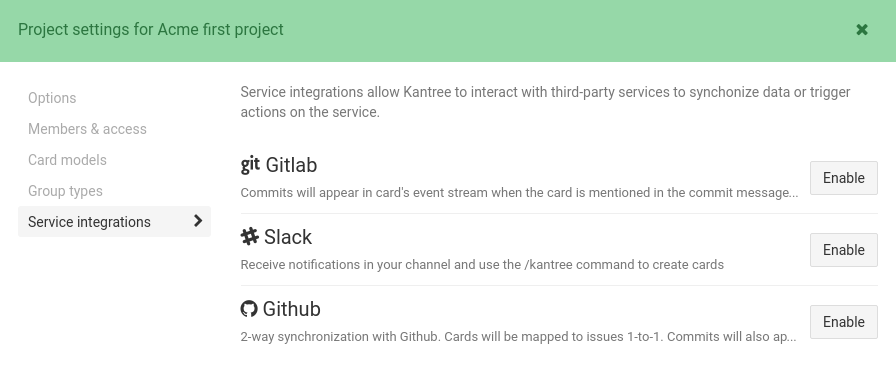 Kantree currently supports:
Slack: create cards from you Slack channels
Github & Gitlab: 2-way issues and commits sync
Where to go now
You've learn everything you need to start with Kantree, but there is lot more to discover. Here is a quick summary.
Advanced Guides - organize anything
Your projects can be organize in simple and efficient ways with Kantree, learn about every feature of Kantree and start working your way.
Customize everything
From cards to groups and projects itself, customize your experience with Kantree so that it will truely suits your needs. Learn more in the 2 guides: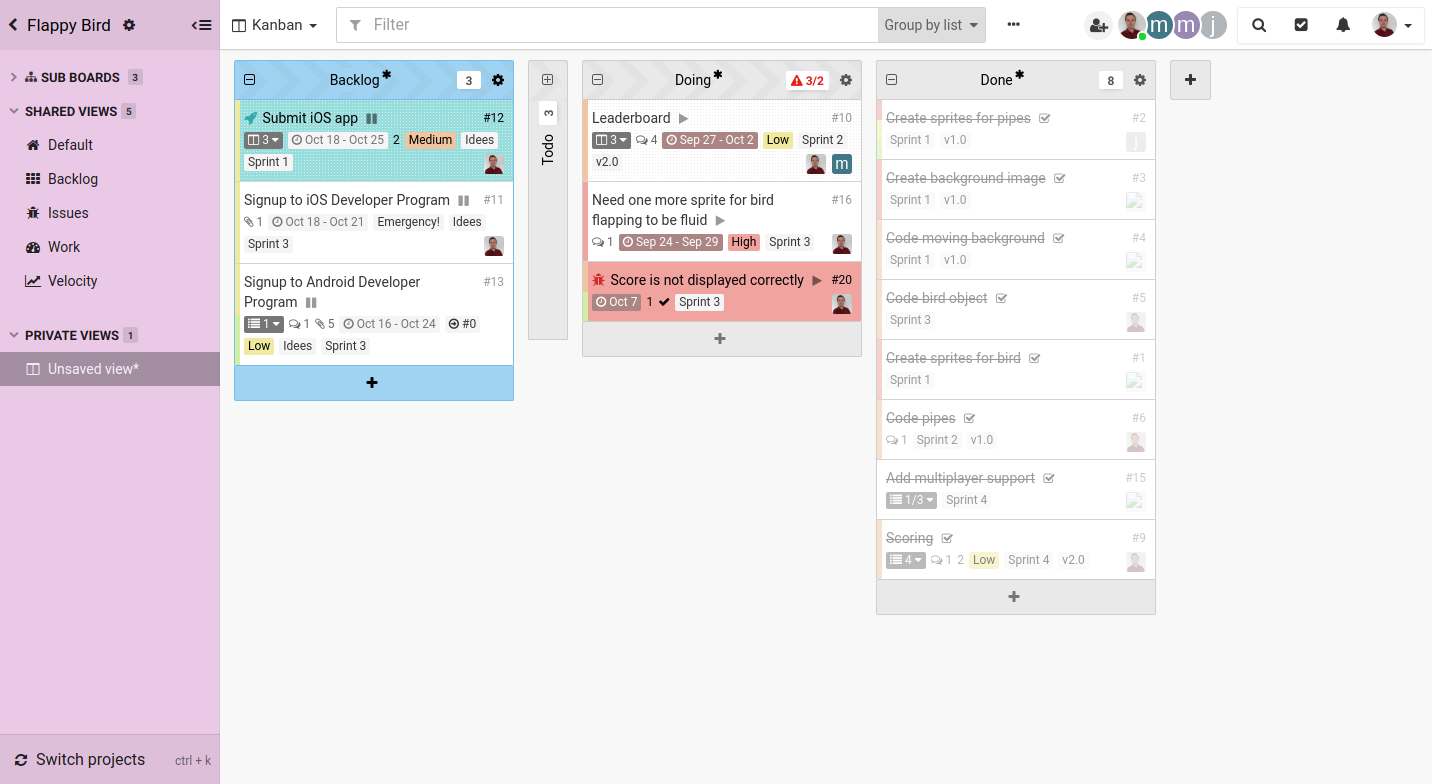 Invite you team and collaborate
Learn how to collaborate easily with your team thanks to Kantree, in the Collaboration guide.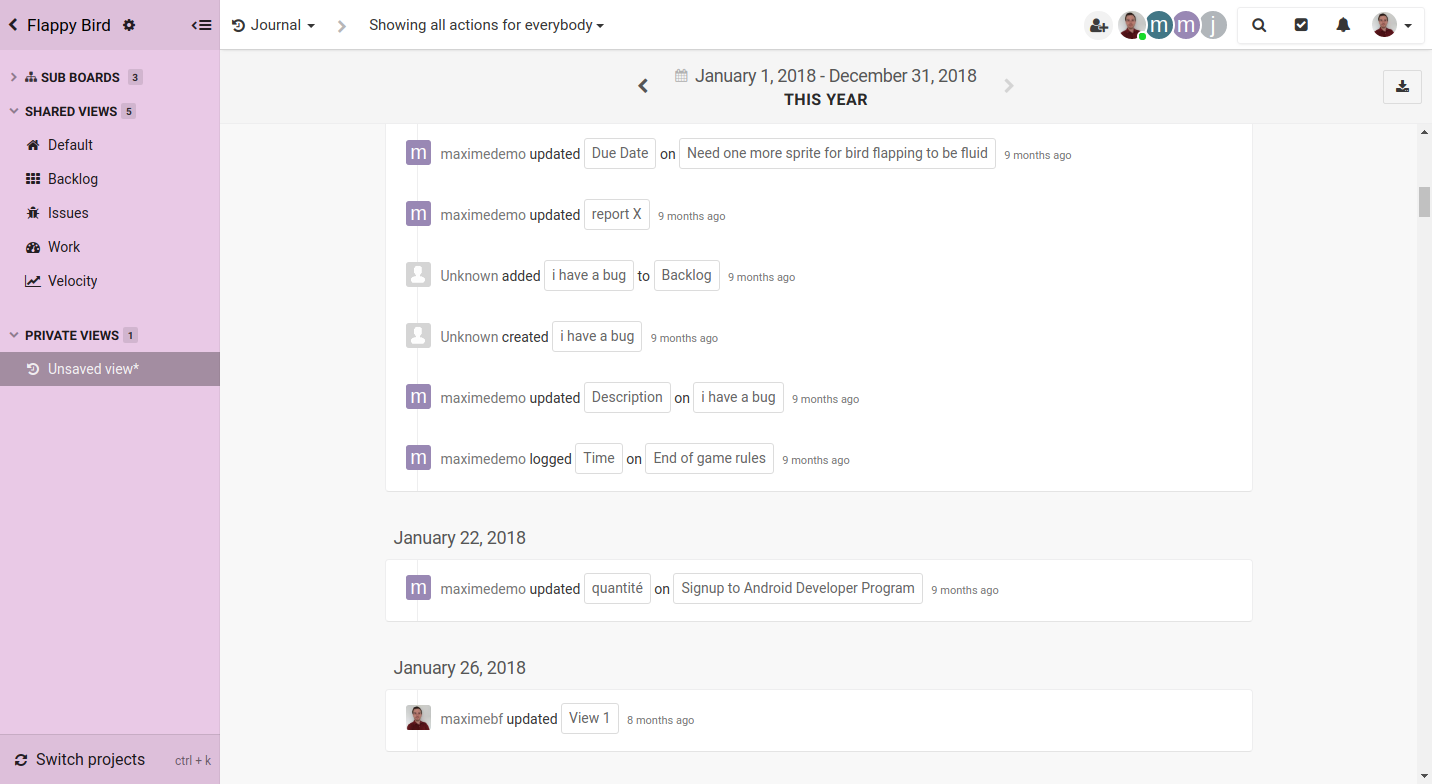 Track your progress in the Reporting tool
Create dashboards by adding widgets of charts, list of cards or queries.
You will find workload, cumulative flow diagrams, cycle times, breakdowns, burndown charts… You can also add results of any KQL queries (see above, filter cards).
Learn more in the Reporting guide.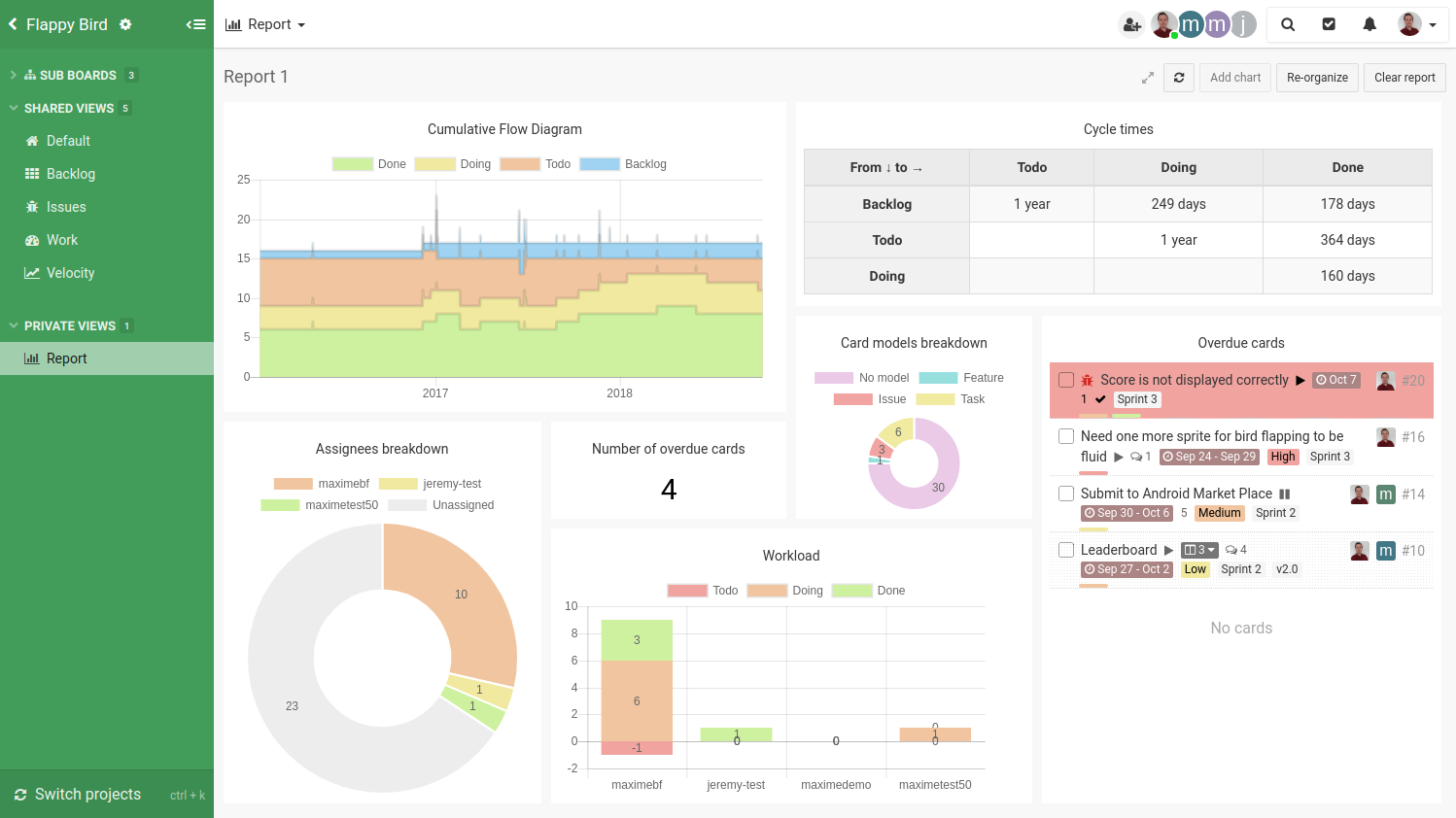 Keep track of due dates in the planning tools
For those of you who prefer to manage their project using a schedule-based approach, you will find a timeline and a calendar so that managing your schedule becomes more visual.
Learn more about the planning tools in this other guide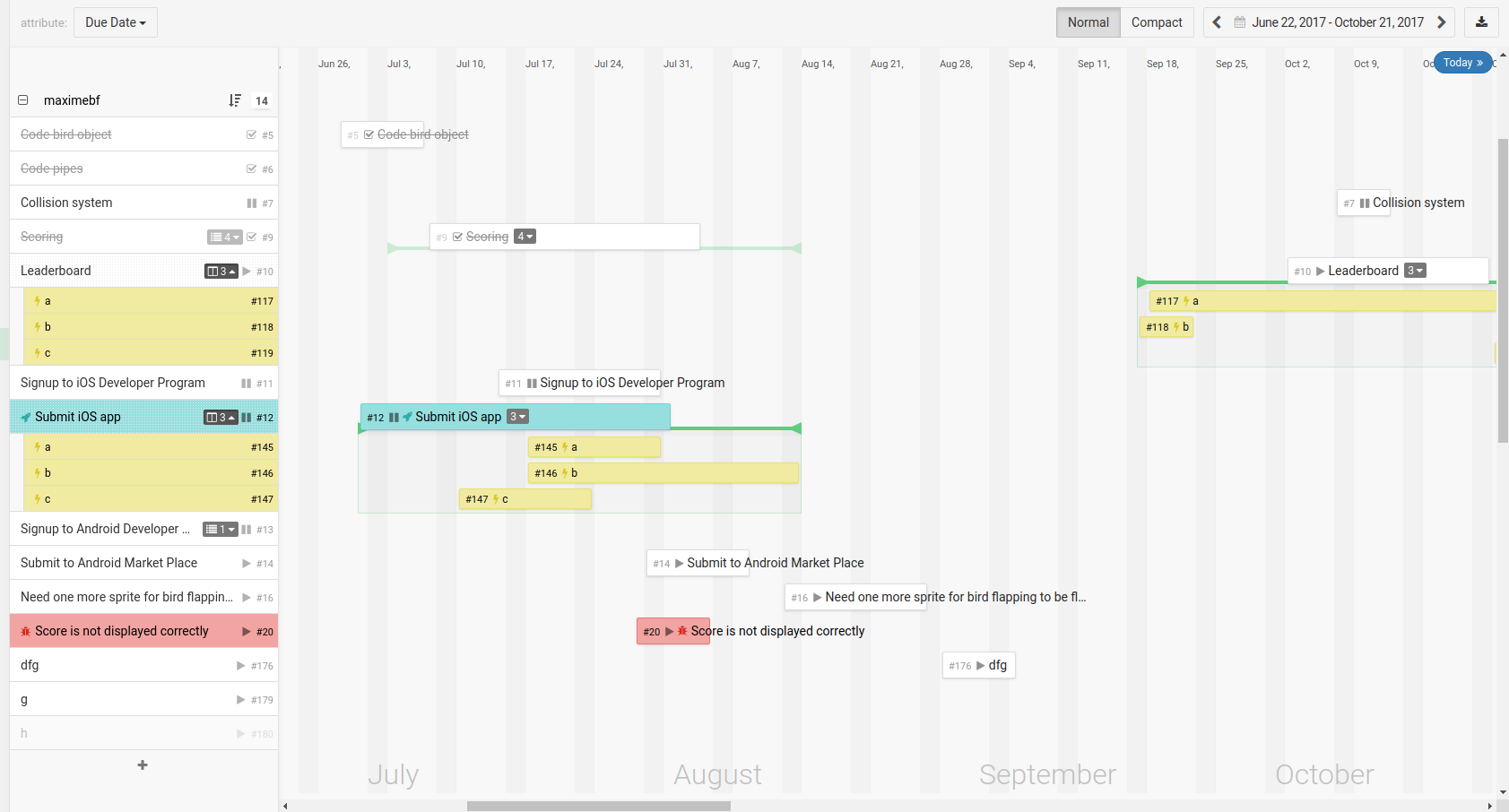 Create cards from feedbacks using forms
Using our form generator, you can provide simple public form to external people.
Each time a form is submitted, it will create a card in the group you specified, filled with the right fields.
Learn more in the form guide.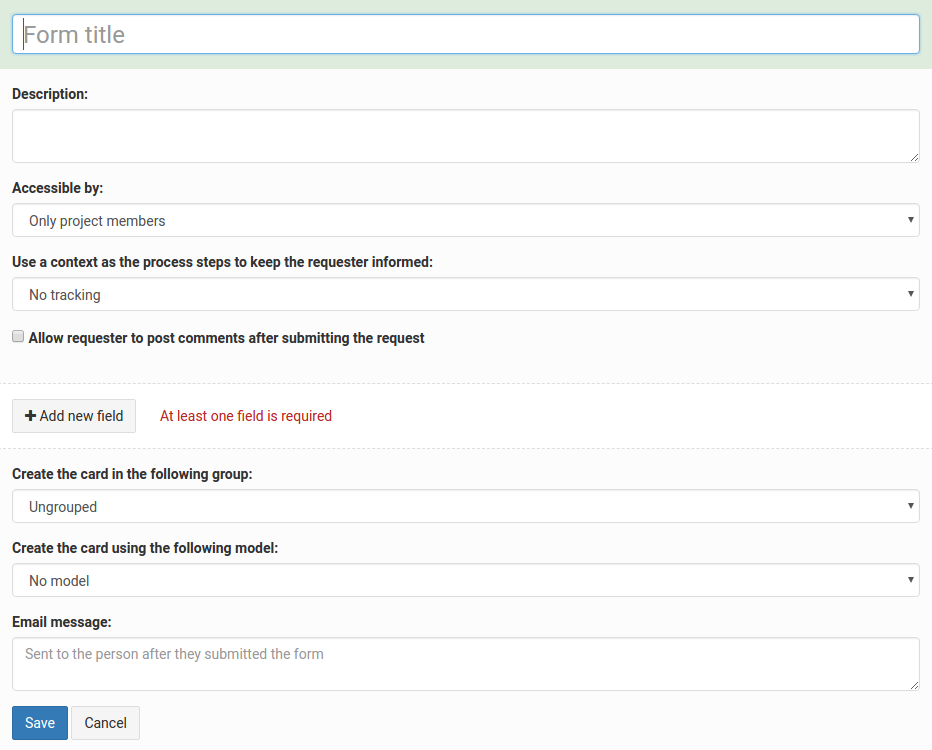 Track time and cost with the logs
In your card, you can log any kind of structured information. The most obvious application of this feature is time tracking.
More on how to log datas in the logs guide.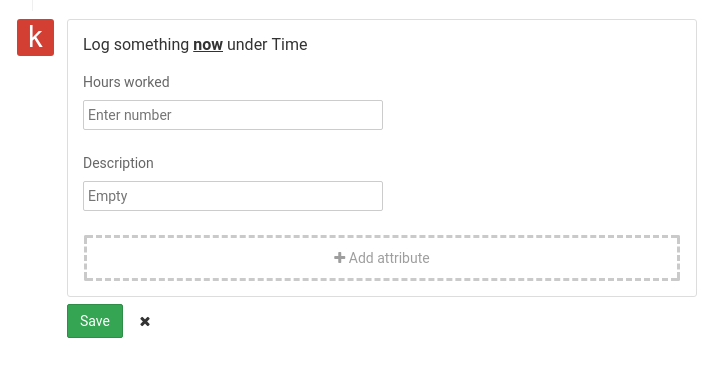 Mobile Apps
Kantree is available on Android (v5.0+ support) and soon on iOS. It is also accessible from any mobile browsers.
Kantree is entirely responsive so that you can enjoy every feature in an optimal way.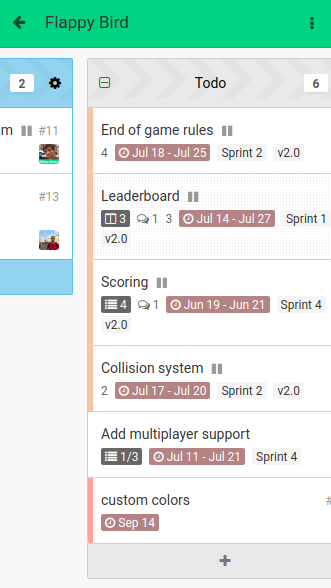 We support a basic offline mode, so that you can access to projects you previously open while online, and add new cards and comments, which will be synced once you get your connection back.
Support channels
Get support from our team and share your feedback at support.kantree.io.
Follow us at @kantreeapp to get updates about our work. Check out the development of Kantree at dev.kantree.io. We'll keep it updated as we improve the app and release more features.
Feel free to contact us at team@kantree.io at any time too!