The General Data Protection Regulation (GDPR) is a regulation in EU law on data protection and privacy for all individuals within the European Union and the European Economic Area. It also addresses the export of personal data outside the EU and EEA. The GDPR aims primarily to give control to citizens and residents over their personal data and to simplify the regulatory environment for international business by unifying the regulation within the EU.
You can find more info about the GDPR on the EU website: https://ec.europa.eu/info/law/law-topic/data-protection/data-protection-eu_en.
Our Privacy Policy
You can find our GDPR-compliant Privacy Policy at https://kantree.io/privacy.
Note: This only applies to our Kantree Cloud offer. Kantree Enterprise customers are bound by the signed contract between our parties.
Using Kantree as a Data Processor
On top of our standard features, we built specific ones to help you address GDPR compliancy easily:
Export your data as an Excel file;
Mark fields containing Personally Identifiable Information (PII);
Filter PII data easily using our powerful search;
Search & export PII from specific users across all workspaces of your team.
Manage Personally Identifiable Information (PII)
First of all, you can mark which fields contain PII data in the field options.
Once this is done, you can export all PII data from the Privacy Compliance tab in workspace settings.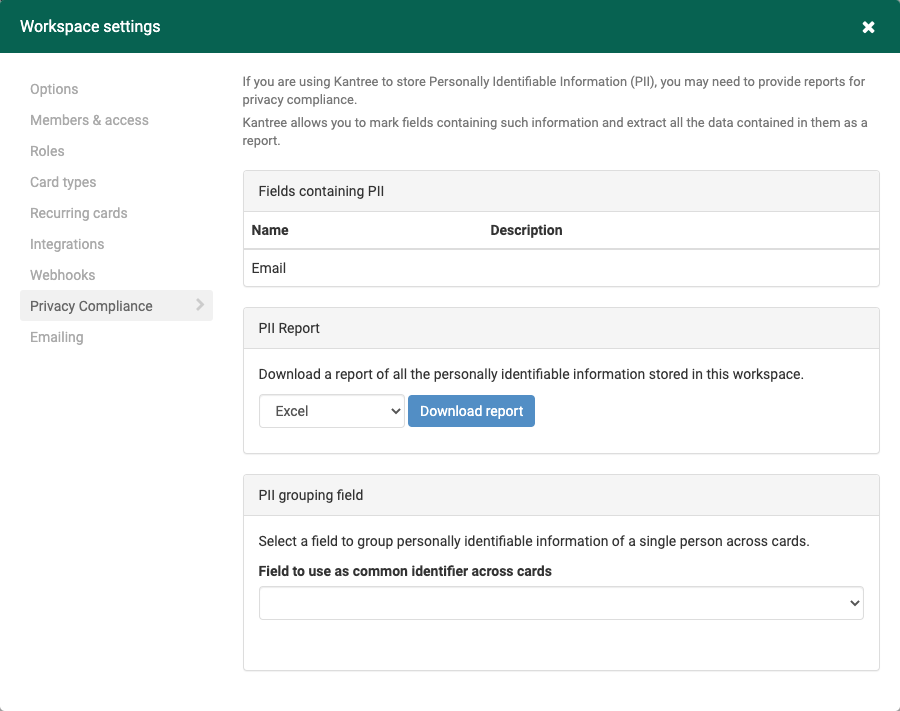 Additionally, you can use one of the PII-containing fields as an identifier. It means that different cards with the same value in the PII identifier will be grouped together in the export. You will find this setting in the Privacy Compliance tab in workspace settings.
The organization page also features a Privacy Compliance tab (settings), which allows you to export data from all workspaces.
Data Processing Agreement (DPA)
Read more about our Data Processing Agreement at https://kantree.io/privacy/dpa.