3 tips for how to set up a kanban board
03/08/2016 - Updated on 19/07/2023 - Jérémy, Pola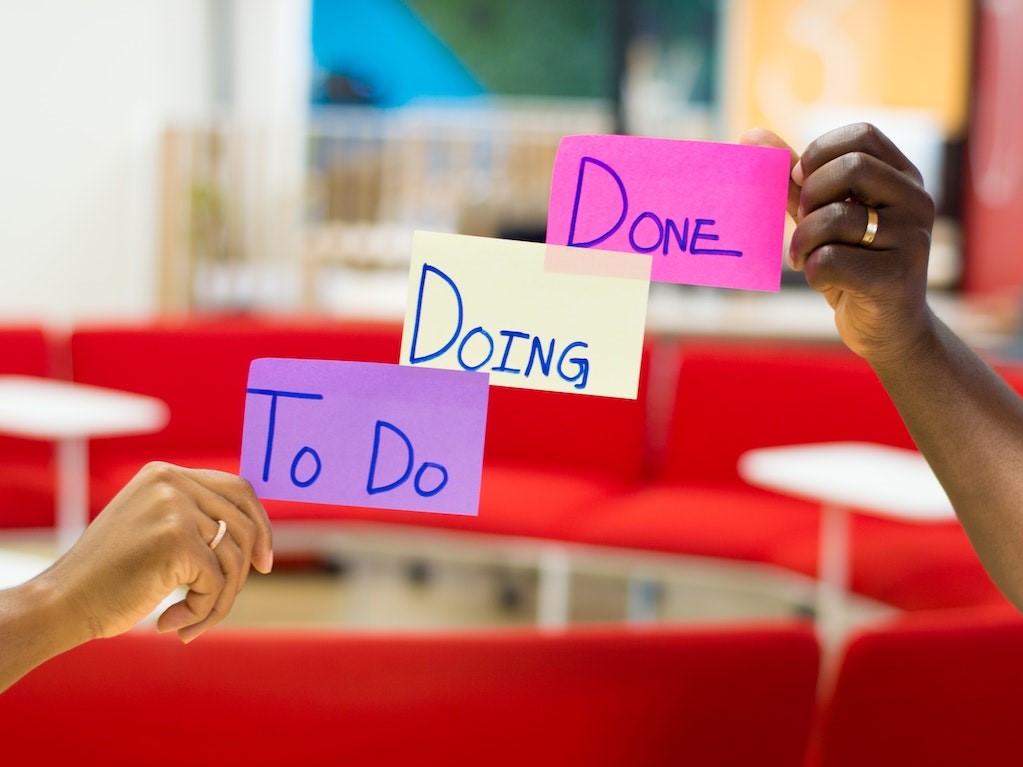 Our team often gets asked how to use kanban for agile project management. Beginning from scratch can be tough. Without the right practices, it won't be long before you leave your shiny new board untouched and your team forgets all about it.
But that's not a good idea, since user-friendly kanban software will be indispensable in the more flexible post-Covid workplace, i.e. one with more distributed and hybrid teams requiring the right digital tools to manage projects remotely.
That's why we're here to help you get started. Use these three simple tips for how to set up a kanban board that will be enjoyed and used by everyone in your company.
1. Start simple and adapt your kanban board as you go
First things first. What is a kanban board? It is a way to show how your work flows between different phases: from an idea all the way to the "finished" state.
The basic kanban board rule is to have columns representing project phases and cards representing pieces of work or tasks. Your goal is to move cards between columns in a way that mirrors the state of your work. This way, when you look at your kanban board, you have a good overview of your team's flow of work.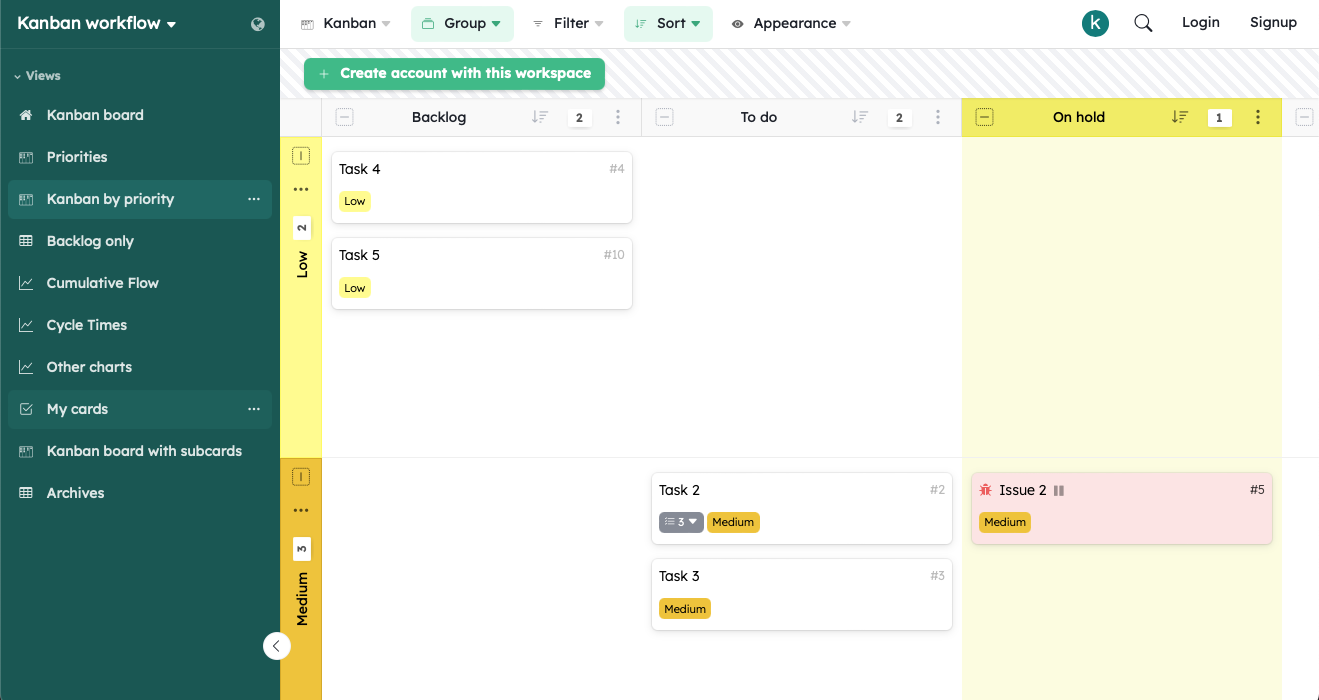 A simple kanban board template in Kantree with project stages
If you're not sure where to start, go with the three basic columns representing project stages, i.e. To Do, Doing, and Done. This will help you get a sense of the workflow. Notice the one-way direction from left to right, the basic rule of workflow visualization. Just like a river flows in one direction, approaching work the same way will help you quickly identify any issues in your flow.
After that, write down your work tasks on kanban cards and place them in the correct columns.
Tip: Make sure that one card represents one independent chunk of work. You want to avoid dependencies between your cards, otherwise you'll be hiding complexity in your kanban board and you could miss potential issues in your process.
Of course, you can (and should) customize the flow to adapt it to your way of working. Update it anytime, but ensure that your entire team understands the changes (see #2).
The types of columns will depend on several factors, such as your existing workflow, type of work, and the structure of your team. It's best to keep it simple, but with Kantree you have more control and can cover more scenarios with additional columns.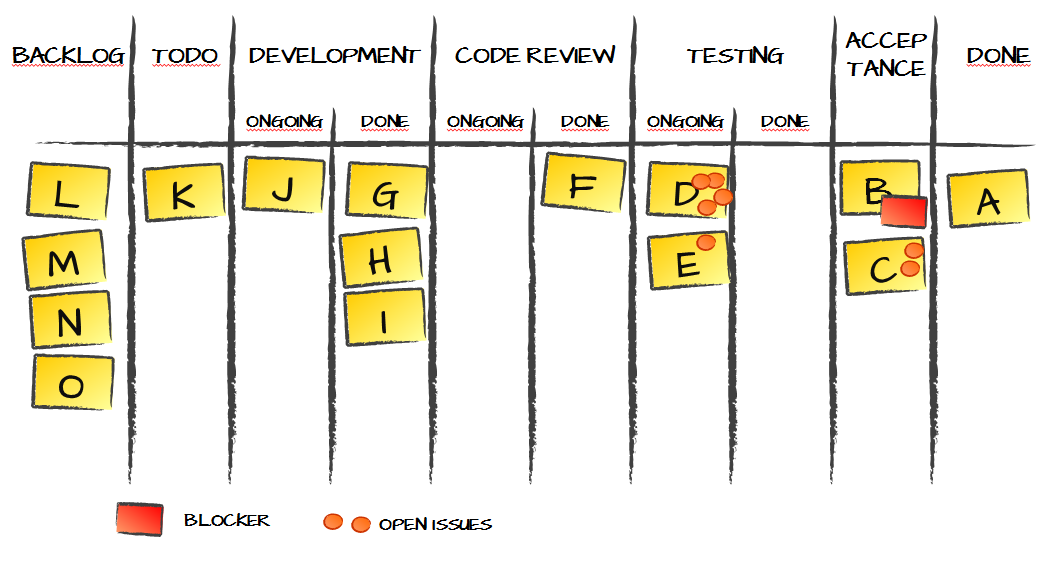 Example of a customized kanban board for a software team [source]
In a hurry? Our template library contains ready-to-use Kantree boards (pre-determined kanban workflows and other project views, such as a spreadsheet or timeline). They are designed to get you started on a new project quickly, be it sales, marketing, HR, or product management. Just like boards set up from scratch, they are fully customizable. Learn how to use our template library from this article and video.
But you're not done yet with the kanban method! If you stop now, you will struggle with having all your team use it efficiently. Which brings us to the next point.
2. Set up smart kanban policies
One important rule of kanban project management methodology is to set up policies on how to use your board. The other part of the rule is to make sure it's clear for everyone on your team. While often forgotten, this is the key to getting the most out of your board.
Your kanban policies should address the following:
What conditions a "sticky note" should meet to enter a column;
What conditions the note should meet to leave a column;
How and why you set a limit to the number of cards in a particular column;
Other rules, such as who can move cards around between columns and when you should remove a card from the board.
You don't have to explain every little detail, but you should be clear enough so that the entire team has an understanding of how to use the kanban board.
One of the most important kanban policies is the definition of Done. If everybody agrees on what a finished task is, you will avoid a lot of issues, e.g. unfinished work that goes into production, unclear responsibilities, tensions within the team.
We also recommend putting a limit on the number of cards in your Doing column. It's called a WIP (Work in Progress) limit and we talk about it in "What is Kanban?"
Basically, you don't want to have more cards in your Doing column than the number of people using your kanban board. The goal is to focus on work in progress in order to avoid leaving tasks in an unfinished state and prevent multitasking. If done well, the WIP limit will strengthen your workflow and improve productivity.
3. Don't forget about feedback loops
A kanban board should not be set up once and left like that forever. As your company grows, your processes will evolve too. Soon you will notice room for improvement in your workflow and you will want to modify it.
That's why it's good practice to step back regularly, look at your kanban board and work processes, and make changes accordingly. It could be as simple as a new column or a new way to highlight the different types of work in your board (e.g. using custom colored cards). Or you may need to update your kanban policy.
These feedback loops are often overlooked in the kanban project management methodology, but they help to keep your workflow efficient in the long run.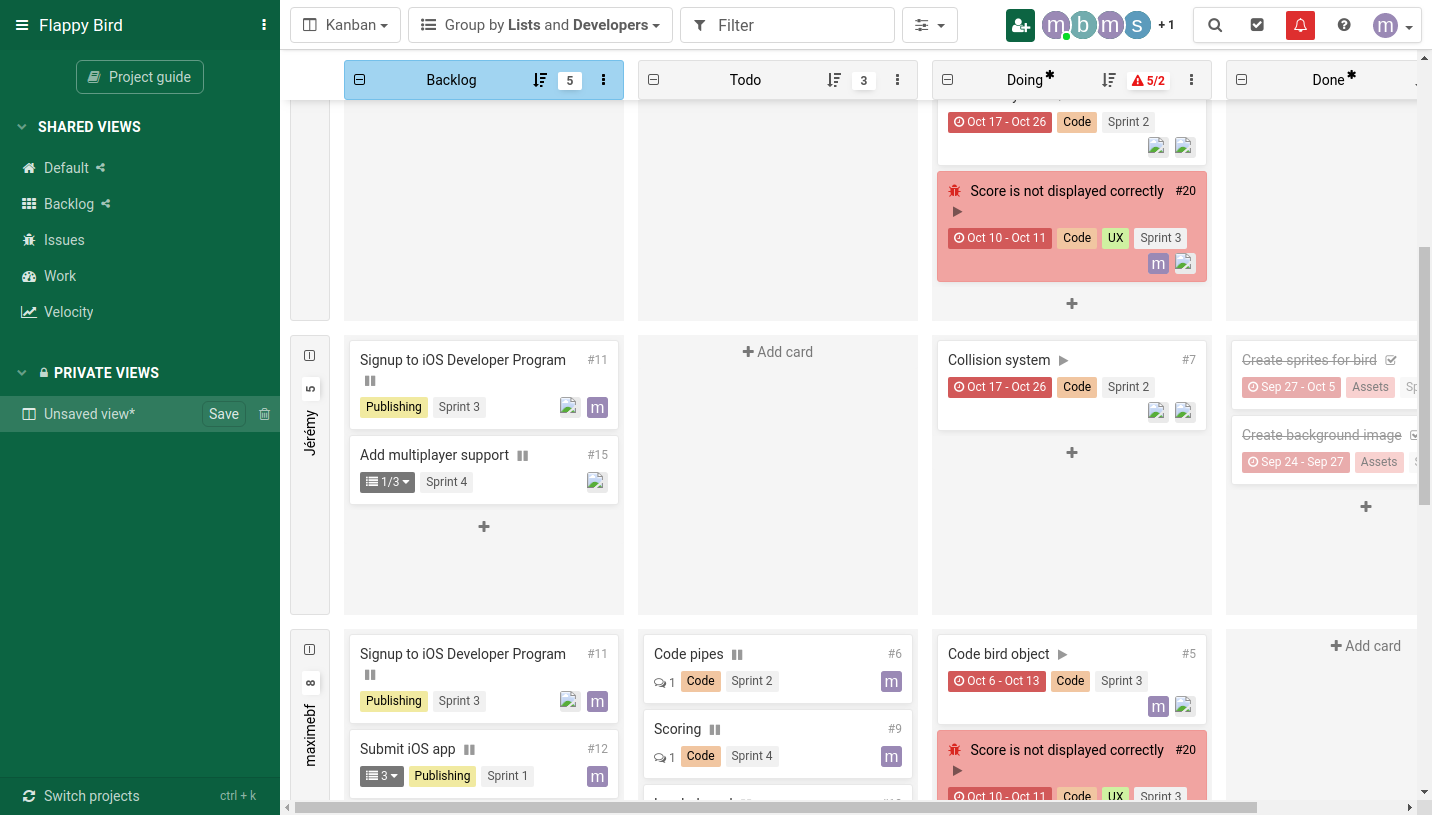 Taking it a step further: example of a kanban board with projects grouped by assignees
Takeaways
With these tips, you will surely know how to set up a kanban board that is efficient and get the most out of it with your team. Just remember to:
Start with a basic board (or use one of our templates) and see how it goes;
Make sure everyone understands how to use it by setting clear policies;
Try a WIP (Work In Progress) limit, it will help improve productivity;
Analyze your practices on a regular basis and update boards accordingly (it's good to set up a recurring event in your calendar).
Try Kantree free for 15 days and start managing projects on your own terms with kanban. Questions? Email us.
---