Top 3 project templates for marketing
23/03/2020 - Updated on 06/09/2021 - Pola
Running marketing campaigns from the first brainstorming session until the launch is no easy task, as any marketer will tell you. You need to organize all your ideas and tasks, communicate across teams (often in a time crunch), and use complex analytics to track progress. This is usually done using multiple tools, from emails and spreadsheets to Skype and Slack, not to mention time-consuming status meetings.
When you use Kantree with its pre-designed project templates, you get to plan, schedule and track your marketing campaigns more efficiently, in less time.
Let's take a look at Kantree's top 3 project templates for marketing teams: editorial calendar, event planning, and marketing campaign tracking. With these handy templates, you can set up a project in a few clicks as a table or kanban board, then customize as you wish, and quickly bring your team into the project.
With multiple predefined views, this template is a project central for content management teams (take it from our content manager). Use this template to keep track of your ideas in our spreadsheet-like view, organize to-be-published and in-process content by week or month using the "working board," see all previously published articles or posts, and easily keep an eye on the publication pace.
Tip: In order to allow external people (clients or colleagues in other departments) to submit content ideas, use the forms feature. The ideas will be automatically added to Kantree in a place that you choose (such as an ideas column in the kanban board).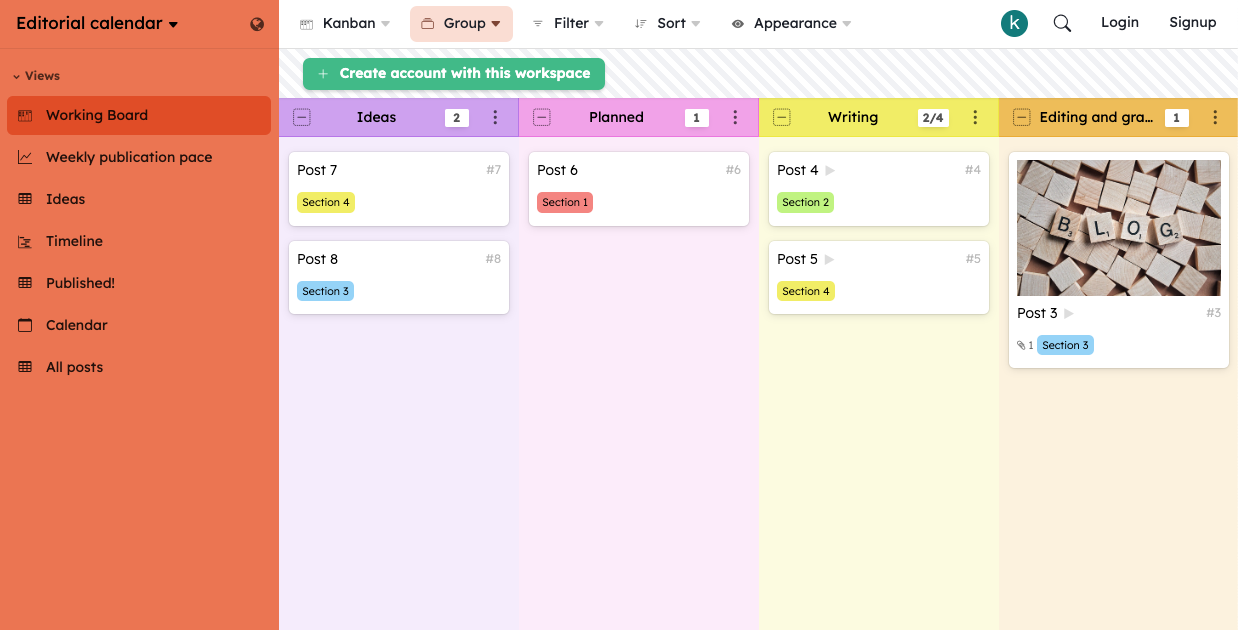 Whether you're planning a team lunch or the next Olympic Games, you might want to start with this flexible template. The main board is a spreadsheet-like overview of all tasks, grouped by timing (e.g. 3 weeks out, day of, post event). The built-in planning timeline is another way to visualize the whole scope of the project, whereas the report view includes several handy charts for quick project tracking.
We have also added "approval stage" kanban boards (grouped either by status or status and category) that allow project managers to sign off on tasks or put them on hold. No important information will get lost in the email!
Another template that is packed with features! This one will be your go-to board for getting started on complex, multi-channel campaigns.
For instance, the "pipeline by platform" view is useful for social media teams by letting them plan and track tasks by a given channel. The timeline view, on the other hand, is designed to help you with long-term planning. It shows how campaign elements are spread out and which ones overlap, giving you an overview of the project. We have also included a report view that tracks spending and results by channel, plus a spreadsheet-like view of all campaigns for a quick overview.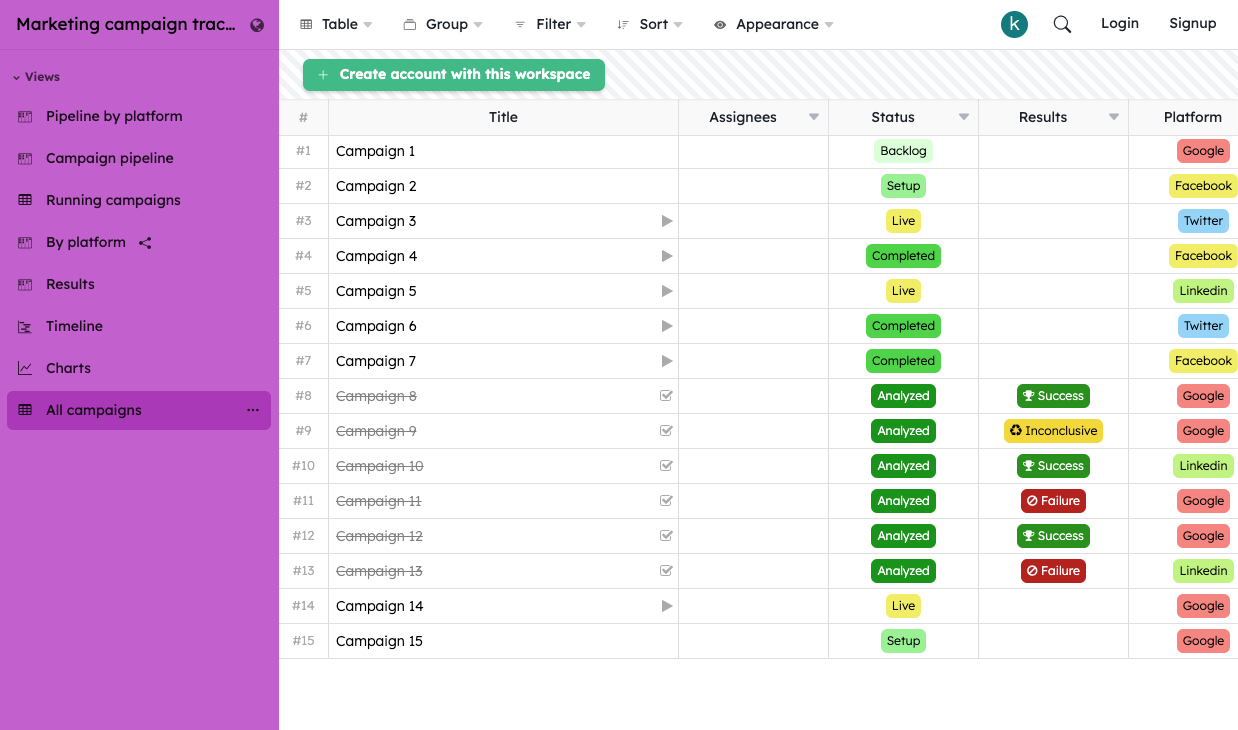 Getting started with templates
After selecting a template, save it by clicking "copy to my projects," then start personalizing: write a project guideline, add tasks and deadlines, invite your team to collaborate, change column captions and colors etc. You're off to a great start!
Tip: Take a look at our 5-minute video (in French with English subtitles), which gives you a quick tour of the template library and shows how to use our templates.
Try Kantree free for 15 days and start managing projects on your own terms. Questions? Email us.
---