Efficient digital project management with Kantree
08/03/2022 - Updated on 19/07/2023 - Pola
At a time when digital transformation and the pandemic are changing how companies worldwide operate, the role of a project manager is also evolving. 
When you put together the fast-paced digital environment, the complexity of managing multiple projects, and the widespread adoption of a hybrid workplace, efficient digital project management requires more flexibility than ever and a new set of digital and interpersonal skills. More on that later. Let's start with…
What is digital project management?
Like in any type of project management, this role involves planning, organizing, leading, overseeing, and tracking projects from the beginning to their final delivery. The added digital element means that the work is performed, shared, and evaluated using online tools for work management and team collaboration.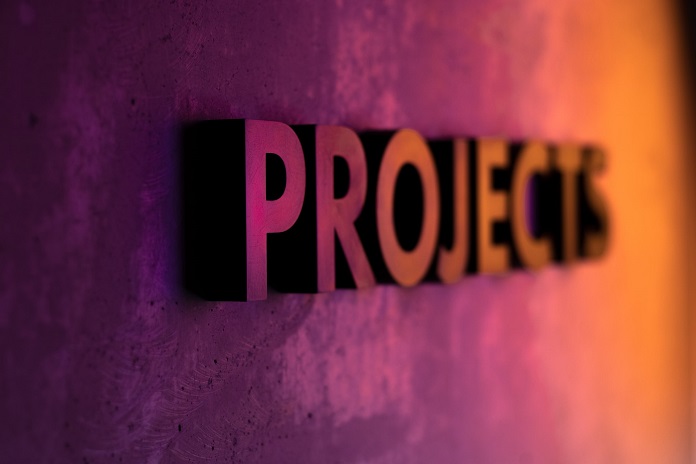 Digital project management requires flexibility and the adoption of online collaboration tools, designed for the fast-paced and increasingly hybrid workplace.
What makes a great digital project manager? 
To ensure efficient project management, there are a number of qualities and skills that a digital project leader should possess. They include, but are not limited to:
Understanding various methodologies, including agile project management;
Strong attention to detail and analytical skills for managing the scope and evaluating success of multiple projects, at each stage; 
Problem-solving and the ability to rapidly adapt to changing requirements; 
Effective communication skills, tailored to the digital environment - from leading online meetings to mastering digital collaboration tools; 
A positive outlook, being able to motivate and connect distributed teams.  
[See also: To do, doing, done: Introduction to kanban methodology] 
How to manage multiple projects successfully? 
While there isn't one answer, in this article, we'll show you how to improve project management with Kantree. Read on for five key features of our platform, designed to make the process smoother for project managers and everyone on their team.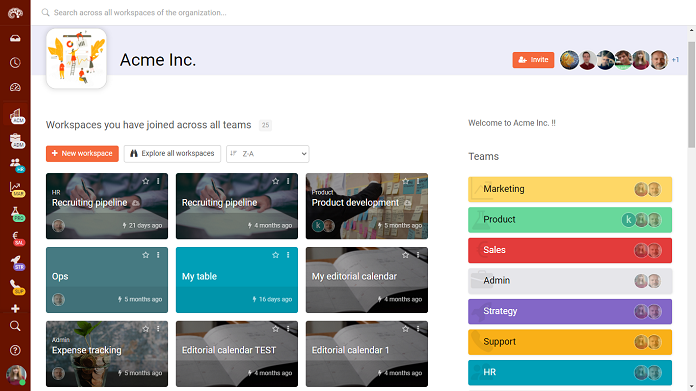 With Kantree as a central place for your project management and team collaboration, you will stay on top of running multiple projects simultaneously.
How Kantree facilitates digital project management
Within our company, we strongly believe that efficient project management starts with empowering people. When technology and human interactions combine, common challenges can be avoided and issues solved quickly, leading to better outcomes. Everyone wins: teams, businesses, and customers. 
[Read about our vision for Kantree as a centralized digital workspace.]
One of the traits of a great project manager that we mentioned earlier is being able to work with distributed teams, so commonplace in the digital world. That means overseeing projects and motivating people without micromanaging them. 
As a fully-remote team, we've experienced first-hand that when you trust people to self-manage and organize their work as they wish, you create true engagement and bring out their full potential. Kantree was designed with that concept in mind.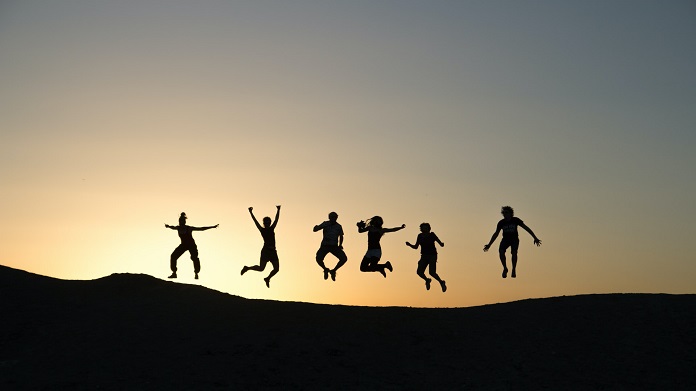 Efficient project management begins with empowering people, not just managers. Kantree's features reflect our commitment to transparency, collaboration, and self-management.
In short, our platform allows users - managers and team members alike - to easily:
set up custom workflows with shared and private views, 
store and access key information in one central place, and 
know what's going on in the project to avoid delays or work overload. 
Here's a closer look at the top Kantree features for digital project management: 
1. Flexibility: mix & match methodologies
Kantree makes it easy to optimize your project planning and delivery thanks to its flexibility. It's not just a buzzword! We've designed the platform to let you and your team members use any type of methodology to structure and run projects, depending on your preferences or deliverables: from traditional ones like waterfall to agile (Kanban and Scrum), to your own way of working.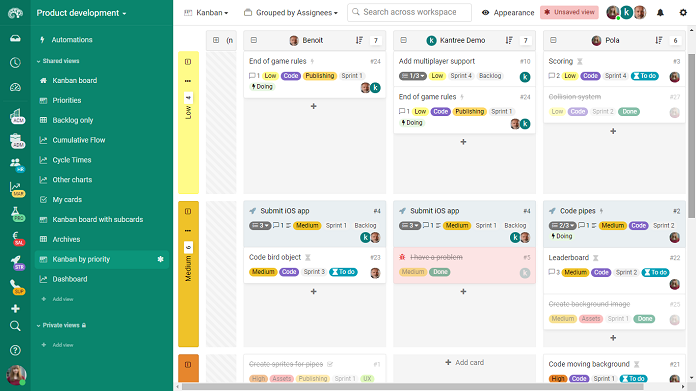 Thanks to Kantree's flexibility, you can mix & match technologies to achieve your project goals. Here's an example of a kanban board with swimlanes for product development.
2. Custom workflows: from basic to complex
Whether you need a simple or highly complex workflow, you can build it in Kantree either from scratch or get started in an instant using our templates. Choose from multiple types of cards, customize your digital workspace with unlimited card fields and hierarchy, and optimize your workflow by setting up work in progress (WIP) limits. For advanced workflows, use the Kantree Query Language (KQL) and the power of automations (read about those in #4 below).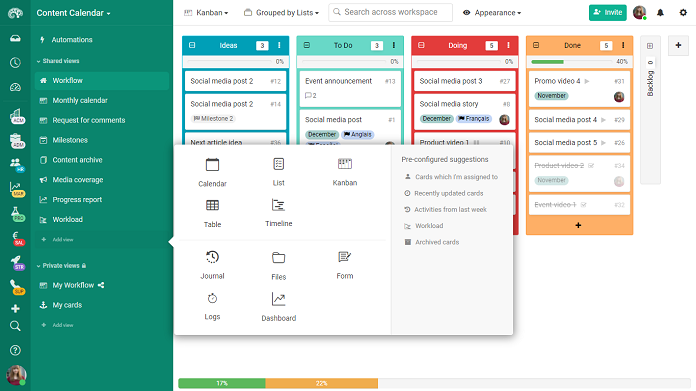 Create simple to complex workflows from scratch or by using our customizable templates.
3. Multiple project views (shared and private)
In Kantree, you are free to display your work however you want. Choose from a visual kanban board, matrix (kanban with swimlanes for a cross-examination of the project), table (i.e. an interactive spreadsheet), checklist (an online to-do list with check boxes and a progress bar), calendar and timeline for deadline-driven projects.
Once you filter a project and get the data you need, you can save it as a private view, so that you don't have to repeat the process next time. Besides, we don't all work the same way and this feature lets you display your tasks in a way that makes most sense to you, without disrupting the shared workflow. A win-win! 
Save views as private to view the date you need without disrupting the shared workspace.
What's more, our powerful analytics and visual reports let you stay on schedule and track progress every step of the way. You'll be able to spot any issues before they happen and prevent your team members from getting overloaded with tasks. 
Use our visual reporting system to stay on schedule, while avoiding work overload.
4. Workflow automation
When you manage complex digital projects, you will need a powerful workflow to handle the scope. In addition to unlimited card fields and hierarchy, Kantree comes with a robust workflow automation system to boost your workspace. These automated commands trigger actions on a variety of events, eliminating repetitive or mundane tasks and leaving you more time to focus on the work that matters.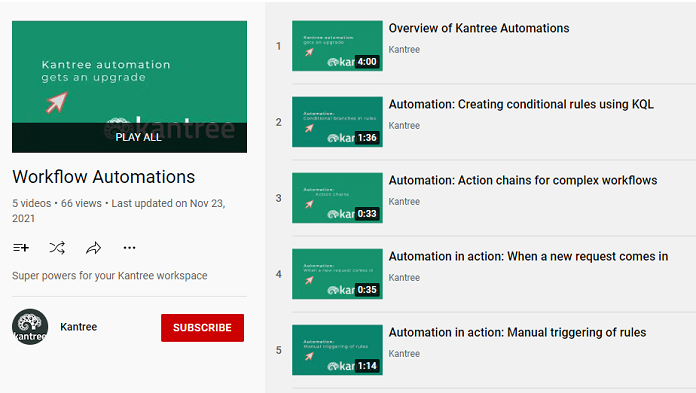 See workflow automation in action on our YouTube channel.
5. Kantree project forms
Another way to simplify digital project management and save time is through Kantree forms. They come in handy when you need to collect information from the outside world: clients, agencies, or other external project partners, e.g. freelancers. You can share or embed these forms online. Once data is submitted, Kantree will automatically add it to a designated place in your workflow. No data entry!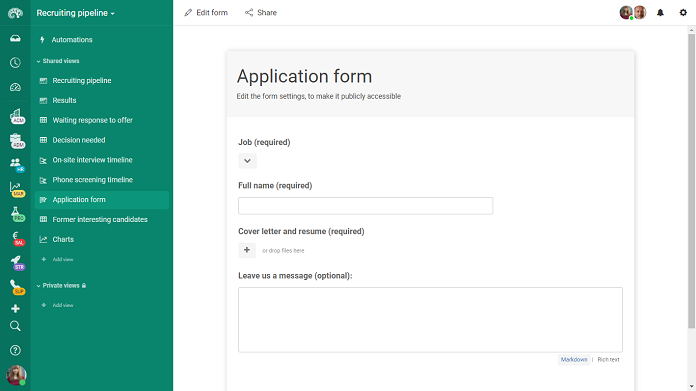 Kantree forms are designed to further simplify your digital project management. They let you collect information from outside parties and automatically add it to your workflow.
Efficient project management in the digital era requires the right online collaboration tools. Try Kantree free for 15 days to connect your teams and empower them to deliver their best work. Questions? Email us.
---