November 2015 progress report
25/11/2015 - Updated on 19/07/2023 - Team Kantree
Since our last blog post, we've made dozens of updates to Kantree. Here's a recap of our recent development in the four areas we've been focusing on: making the app more "visual", making it more customizable, adding tools to analyze your teamwork and offer more control over your data.
Visualization
We added two new ways to visualize the cards of your projects: calendar and list views, in addition to kanban boards.
The calendar view was added to help with the planning phase of a project. It shows all the cards and milestones by weeks or months. We use it mainly for reviewing the project and limit the workload of teams over time. A list of all the unscheduled cards is shown next to the calendar, which makes it easy to set their due dates by drag & dropping them on the calendar.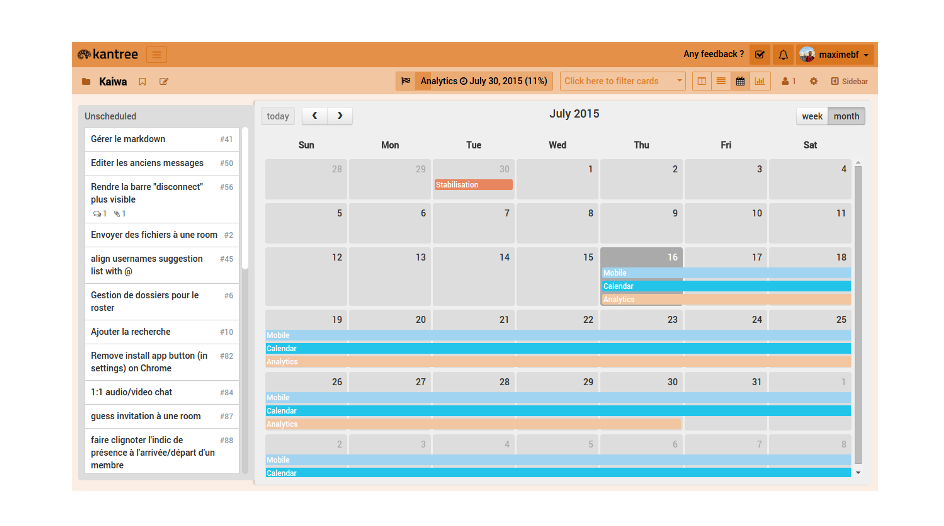 The list view shows all the cards of a board in one list, along with checkboxes to mark them as done. For now, the list view can help to go through all cards at once regardless of their kanban column but we'll soon release a new list interface that will surface more info about attributes and makes it easier to organize a project by milestones.
The kanban board also got some additions: the highly-requested WIP limits to warn of potential work overload or bottlenecks, and new column width preferences to adjust the information density of your kanban boards.
We added a tree browser on the left side of all these views: it displays the tree of cards in your project and lets you jump in one click to any level of your project hierarchy.
We also worked on the mobile version of Kantree with a responsive design. The interface of the application is automatically optimized to the size of your screen and works smoothly with both touch and mouse. We considerably improved the performance of drag-and-drop of cards and lists so they can be moved swiftly anywhere on a board. Although the standalone apps will be launched later for Android and iOS, Kantree can already be used fully on mobile devices with Chrome, Safari or Firefox. If you're curious, try the responsive interface on your desktop by downsizing your window.
Analytics
We added an analytics section with charts and indicators to track the progress of a project over time. Just don't let colorful charts distract you from getting things done…
Five modules have been added so far: the cumulative flow diagram to track your input-output ratio, the cycle times table to measure the time a card usually takes to move between lists, and the card breakdowns by assignees, card models and milestones.

More charts and indicators will come later to monitor your boards, with the ability to filter by milestones. For projects with multiple board levels, we plan to add an option to compute stats all the cards in the project hierarchy instead of from the current board.
Customization
We added many ways to customize your kanban boards to take all the particularities of a project into account when planning, organizing and analyzing it. We think this makes Kantree one of the most versatile agile project management tool — no less!
For that, we brought card models to the app since its inception: they allow to create different types of card with custom attributes, card indicator, color and layout, and to reuse them across projects and organizations.
For instance, in our project for Kantree development, we manage our features requests and our bug reports in one board. For that, we use an "issue" model with custom fields for reproducibility and severity, and a "feature" model with attached files for specs and feature size. Thus, the cards in our board can fit our needs and can change as our project evolve.
This shows how different your cards can look once you customize them:

We also introduced board templates so anyone can set up a new project with custom-made workflows, list options and card models. Once a board is saved as a template, your can allow your collaborators to reuse your work for all future projects in your organization.
Manage your data
We integrated Kantree with three of the top applications for developing a project. Imports from Trello and Asana let you retrieve all cards, tasks and their metadata in Kantree. The Github integration is more extensive as it keeps Github issues synchronized with Kantree cards, and allow for git commits to be linked to card - by branch or by mention in git comments.
We also added a way to export your data by downloading your projects as .csv and .json files.
More importantly, we started the beta program of the self-hosted version of Kantree in September.
This version allows organizations to run Kantree on their servers and have full control over their project management software and with total privacy for their data. This self-hosting version is currently being tested with our partners and will be released publicly later this month. Sign up for the beta if you want to get it early.
Ongoing development
Besides this, we made many refinements, including keyboard shortcuts and right-click menus on cards. We also added the all-important ability to move and copy lists and entire boards. You can explore our product roadmap and follow our dev on dev.kantree.io.
We're currently working on a new system of groups that will make it easier to organize your cards by milestones, EPIC, labels… actually, by any type of group. We're very excited about this, but this is for another blog post so stay tuned!
---