In my first article about well-known methodologies that have emerged from or have been assimilated by the agile movement, I would like to present the Kanban method.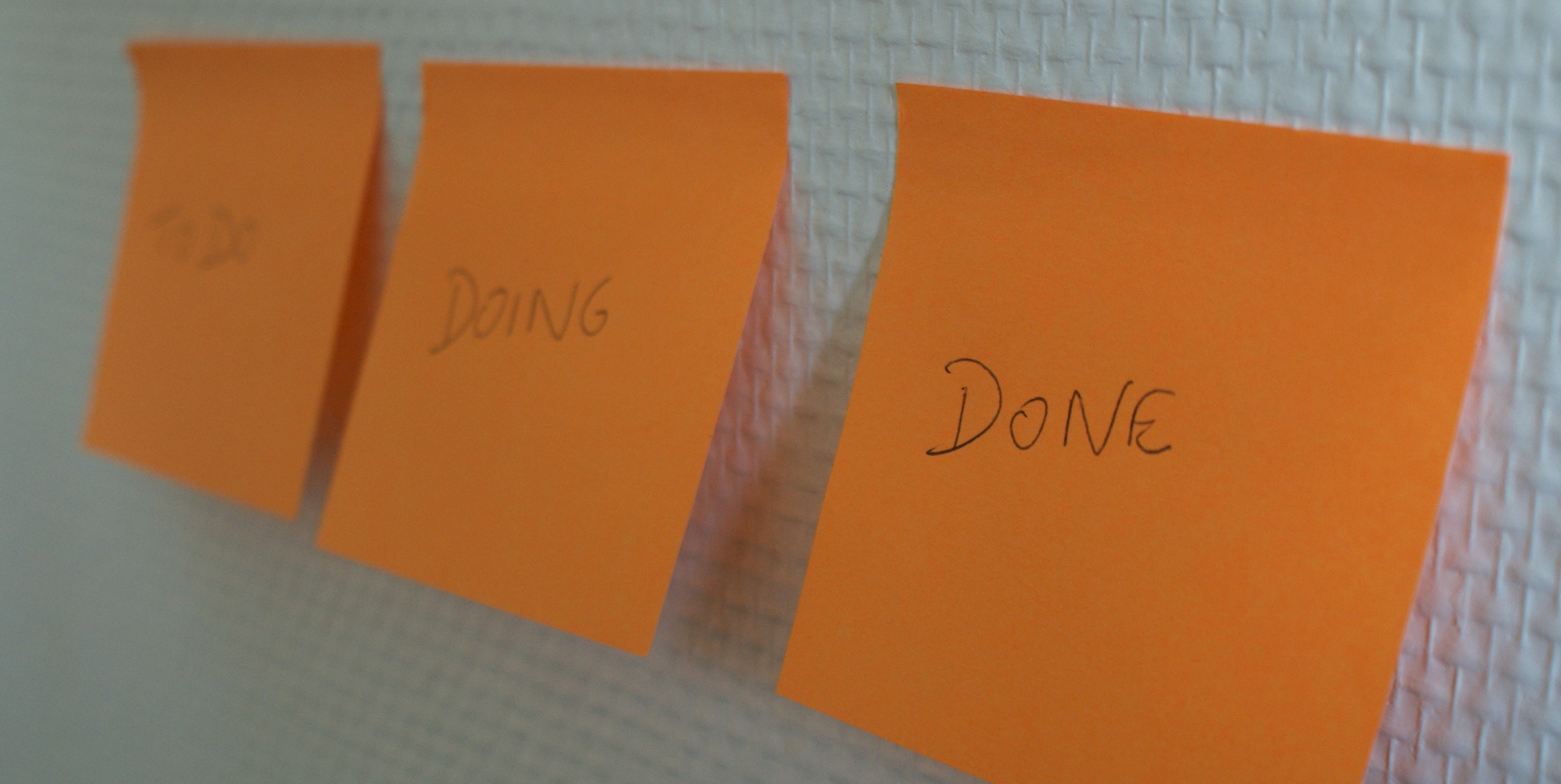 Kantree was originally thought as a tool for Kanban which explains a part of our name :)
For about 10 years, Kanban has been quite popular as a change Management method to improve the way companies organize their workflow.
With this article, you will learn everything you need to know about Kanban and which are the best practices.
At the origin of Kanban
Back in the after-war japanese industry, the Kanban process was a signaling system.
It originated from Toyota's Production System which was developed in the 1950s as an implementation of a lean manufacturing system. Small paper cards, called kanban, were used to track demands and discover issues in the production flow.
An evolution of Kanban
Because of the work of David J anderson and the Kanbandev community, Kanban became an approach to incremental, evolutionary change for technology development/operations organizations.
It comes with 4 principles which recommend to start with the current state of the organization, acknowledge what already works great and improve what doesn't, one step at a time. It also encourages to empower people to make these changes, thus enabling a Kaizen spirit to spread across the company.
Below, I will explicit each of these principles.
Start with what you do now
Beginning with Kanban doesn't imply doing sweeping changes in the way you're organized. It starts by trying to visualize the flow of value in your organization. Then slowly, you will apply fixes in your systems to remove bottlenecks and maximize your flow.
Agree to pursue incremental, evolutionary changes
To complete the first principle, the second one told us that changes should be as small as possible and always in a sense of continuity and evolution of the existing system. It helps disminishing resistance due to uncertainty and fear that could pop when changes are too brutal.
Respect the current process, roles, responsibilities & titles
The Kanban way of thinking recognizes value in the existing processes, roles, responsibilities and titles. The Kanban method encourages you to empower what is already working and only apply changes where it is truely needed. No Big Bang. The Kanban method try to reduce as much as possible emotional resistance to change.
Encourage act of leadership at all levels
Here you want to distinguish management from leadership. Everybody (not only managers) should be encourage to act as a leader and to become one. Leaders are people which are never satisfied with how good their work is and continuously try to improve. This mindset is often referred to as Kaizen, and everybody should be encouraged to foster it.
Best practices
From successful Kanban implementations emerged best practices and advices. They were slowly added to the method.
It suggests you to setup a tool to visualise and measure how the work is flowing through the organisation (e.g. the kanban board).
To improve the predictability of your work delivery, you're encouraged to implement some sort of pulling system by setting work in progress (WIP) limits.
Finally, it comes with some change management advices :
make policies and processes explicit so that anybody knows them and can participate in improving them,
prefer a scientific approach to reduce uncertainty in your changes,
implement feedback loops to continuously monitor your system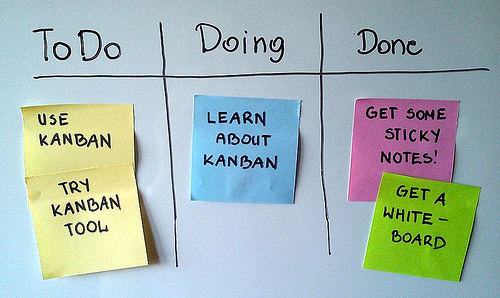 Simple personal Kanban board via photopin (license)
What you should remember
Kanban is a great method to
evaluate your organization processes and improve them
improve the speed and predictability of your delivery through better workflow management
having collaborators happier and committed to your project
set up a Kaizen mindset and create a dynamic of continuous improvement
Kanban is not a project management methodology, but helps you improve your project management continuously.
The kanban board is one of the famous tool used to provide a workflow visualization, but the Kanban method shouldn't reduce to it.
In my next article, I will talk about this board and how to successfully setup the method.
As always, don't hesitate to give me feedback and discuss with me on twitter, @djeremh.
Useful resources
Julia Wester on Kanban: Julia provides a useful summary of what Kanban is. Check out her other articles, you will learn a lot on agile methods.
Kenji Hiranabe on Kanban: back in 2008, Kenji wrote a fantastic piece of paper on Kanban and its origin in Lean Manufacturing in Japan. Still worth reading.
Interview with David J Anderson: It's always worth reading David on Kanban. Check out his blog if you want to follow the future of Kanban.
---