Moving from UserVoice to Kantree for client support
09/09/2019 - Updated on 18/07/2023 - Jérémy, Pola
If you have contacted Kantree in recent weeks, you may have noticed that things are different. That's because we switched from UserVoice to Kantree for customer support in order to make the communication smoother. Let us walk you through the changes.
Before the switch, we noticed a number of issues. One example would be the integration of the UserVoice widget with our app, with the former potentially getting blocked by browser extensions of our users. In terms of support requests, the interface for user-generated tickets is imposed by the app, so there was no possibility to customize the bug/feedback form. Managing tickets via the UserVoice web app meant a new interface to tame (since there's no integration with Kantree), little customization, and no kanban or workflow mode.
There were more reasons for the switch. We were limited to one free account for interaction with customers (as a startup, we had to be conscious of our spending). We wanted to move away from that, especially after we started managing client feedback via our public roadmap. And finally, we didn't want a third party to have access to our users' emails.
Note: That's not to say UserVoice is not a good solution, it served us well for some time! But as Kantree evolved, so did our needs and it was time to make changes.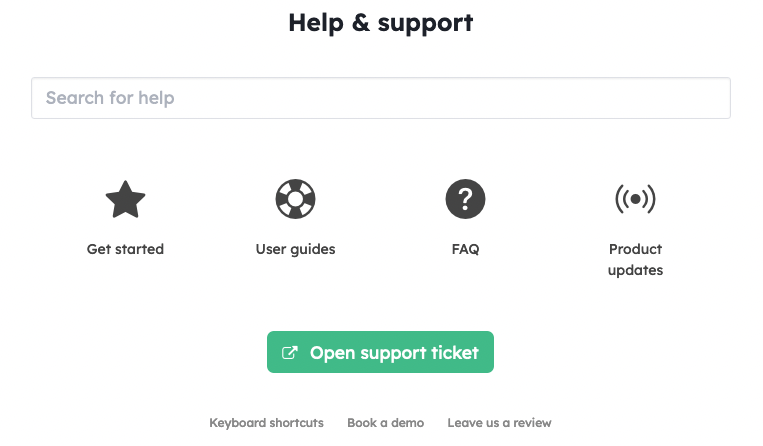 Now we have more control over the support process. What it means for you is more efficient communication with our team whenever you need to get in touch.
Our entire team can now provide user support.
Since there is no third-party script, the bug/feedback form is directly integrated into Kantree. It's entirely customizable and can further evolve based on our (and your) needs. The form creates cards in Kantree, which we then use to track support tickets.
You can open a ticket either directly in the interface (look for the form in the help menu in the bottom left corner of the screen) or by emailing us at: support@kantree.io.
The support management interface is now the same as any Kantree project. That means all platform features are available to us, including project views and reports to better monitor client support. If needed, we can link support tickets to our roadmap.
Once a ticket is submitted, its progress is visualized in a workflow. Our team gets to discuss your open ticket and communicate with you using cards in the corresponding Kantree project, which speeds up the support process.
As soon as there are updates or modifications, you get notified via email. To reply, you can simply email us back or use the summary page of your ticket.
Last, but not least: we no longer disclose emails and discussions with our users to a third-party company.
Switching to Kantree for tech support comes with more improvement opportunities down the road. For example, we may create a summary page of all tickets opened by a user, attach attachments to a ticket more easily, and better manage the links between our support and roadmap dashboard. We will keep you posted on the improvements as they are introduced.
Follow our public roadmap and be a part of building Kantree! Members can submit ideas and comment on in-progress items. Questions? Send an email or tweet us at @kantreeapp.
---