Trello alternative: Why choose Kantree for project management
17/12/2019 - Updated on 18/07/2023 - Pola
When we exhibited at Web Summit 2019, we had a chance to present Kantree to business professionals from all over the world. While their countries and job titles where different, they had one thing in common: they knew Trello when asked about project management tools. That's not to say they all loved it - name recognition is one thing, functionality something else.
People wanted to know how we differ from our competition. Their questions triggered a discussion about Kantree's features and why we are the best Trello alternative out there. We break it down in this post.
Why choose Kantree over Trello?
Short answer: Kantree was built with businesses in mind. Our team of developers at Digicoop, the cooperative startup behind Kantree, are business users who had grown frustrated with existing work management tools and faux agile solutions. They set out to build a tool with more ways to visualize data, more flexibility to create advanced workflows, and powerful built-in analytics to help your business grow.
That being said, let's take a closer look at why Kantree is a great Trello alternative for project management and team collaboration.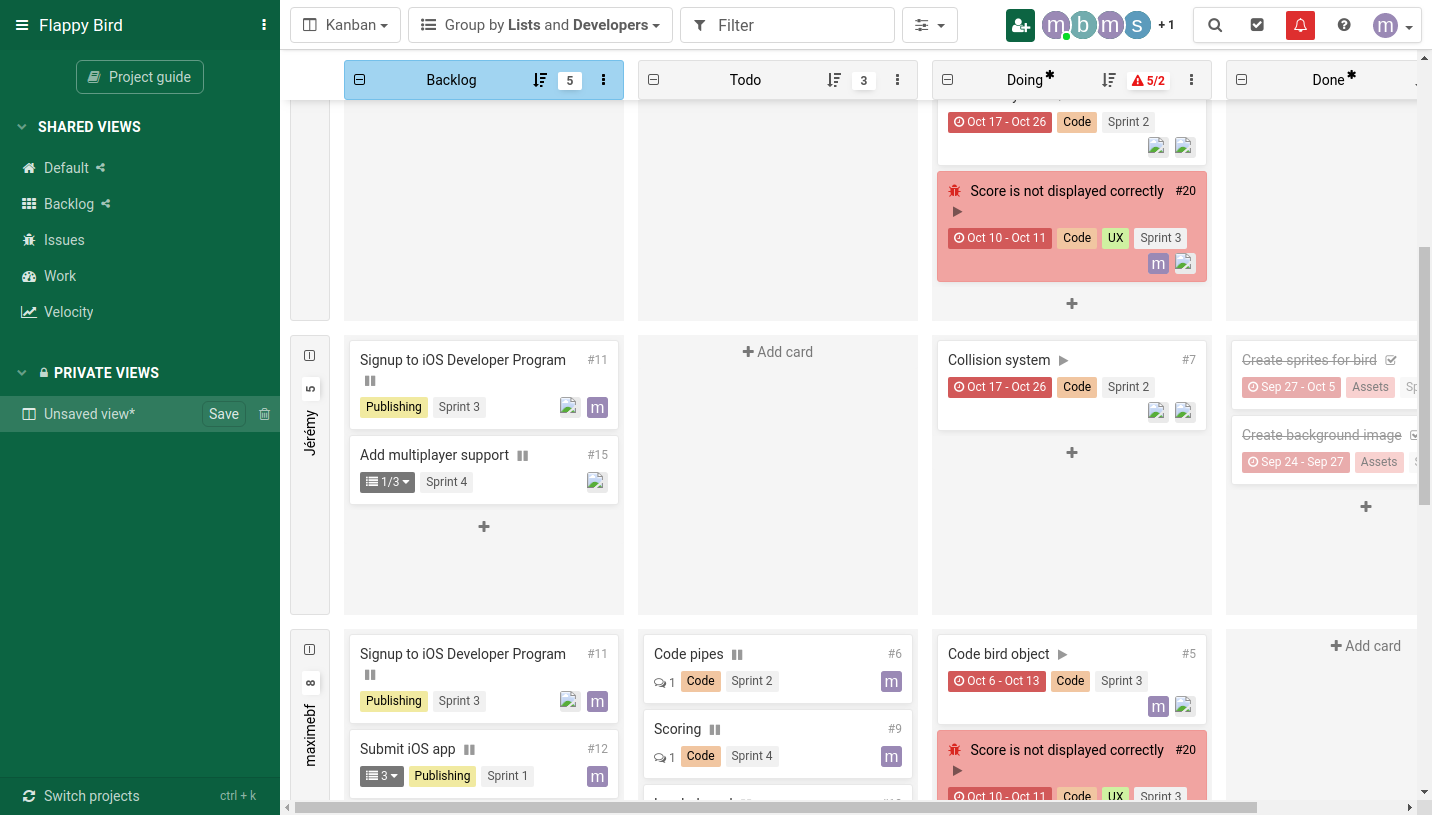 1. More powerful: Kantree is Trello on steroids
Trello is simple, which is why so many people like it at first. But the simplicity is also its greatest weakness, making it a very lightweight work management tool. While it may be good for planning something straightforward like a team outing, its flaws become evident once you need to handle advanced workflows. For example, Trello lacks spreadsheet views and sufficient time-tracking options, two important features that help project managers handle complex projects such as marketing campaigns, recruiting processes, or product launches. Trello's card system also has limitations. We've seen complaints about the basic level of task dependencies.
That's not the case with Kantree. Our platform comes with multiple types of cards, unlimited subcards, and advanced custom fields to populate your cards with all and any information you need. In Kantree, you can also visualize data in many ways: as multi-dimensional Kanban boards, swim lanes, editable tables (with the freedom of Excel spreadsheets), or as calendar and timeline views (similar to the functionality of Gantt charts). Switch between the views with a simple click on the toolbar. And third, the powerful search feature and saved views let you create customized, private workflows and quickly access the data you need every time you log in to Kantree.
2. Full agile support (don't get fooled by fake agile)
At a time when digital transformation is changing project management, companies need advanced solutions to help them focus on strategic planning and delivering results. Because Trello's structure is very simplistic, the tool has to rely on extensions to bring you some agile and scrum functionality. The downside? You are limited by the functionality of those extensions, and that is not true agile project management.
On the contrary, our project template library features out-of-the-box, comprehensive Scrum and Kanban templates to easily set up and manage any agile project. Because our modus operandi is flexibility, you are not limited in your ability to adapt these workflows to your team's specific needs. And with our tracking features for kanban and scrum boards (something that's not optimized in Trello), you can stay on top of you team's capacity and delivery at any stage in the project.
3. Performance analytics & reporting included, not optional
Modern project management is more analytics-driven than ever before. Thanks to digital workflows, project managers expect to easily track and quantify their teams' work in order to make informed decisions. But not all work management tools give them that option, and Trello certainly doesn't with its lack of analytics and reporting.
Our powerful built-in analytics tool allows you to track many different aspects of your project using charts and graphs. You can quickly see how your team is performing, identify any bottlenecks in the project, and improve the delivery speed. As everything in Kantree, these reports are highly customizable to match your specific needs.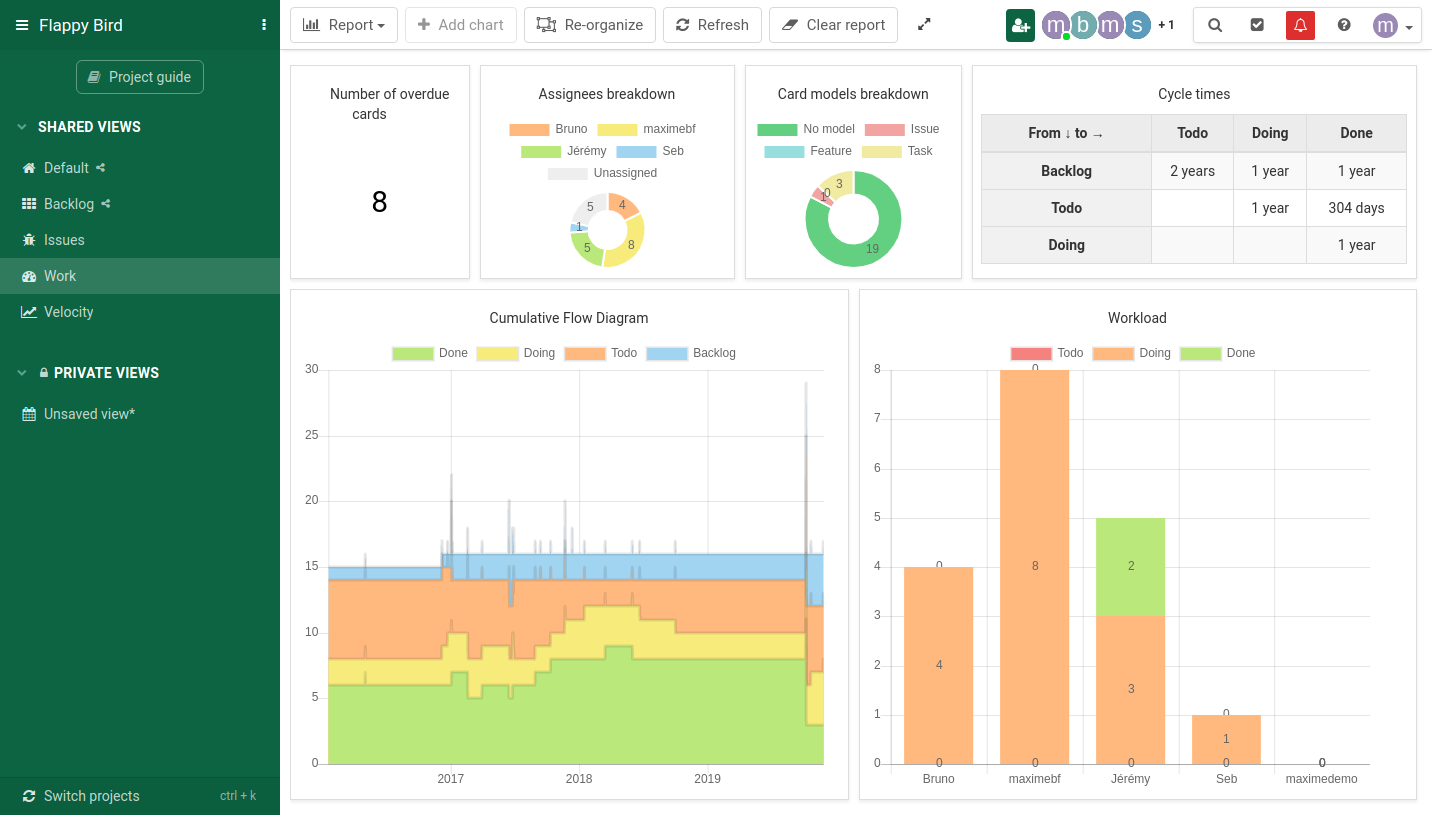 4. Full control of your data with private cloud and on-premise hosting
We understand the confidentiality requirements of various companies or the need to host your own data, having worked with global financial firms and government agencies. As a result, we are committed to providing flexible hosting options for our customers. While Trello offers standard security features in its business version, with Kantree Enterprise, you get to keep full control of your data, while enjoying a more advanced work management tool.
5. User-driven development
As with all software development, things change. Thanks to input from our customers, we've been able to grow rapidly and add 10,000 new users in Europe and beyond in the past 18 months, without being bought out by a large company (as was the case with Trello). Why does it matter for you?
Thanks to our co-op values, such as collaboration and transparency, we make it a point to truly listen to our users and further develop Kantree to fit your needs, as they evolve over time. That's why we've created our public roadmap, where you can see what's in the works and request new features. We're here for the long haul, join us!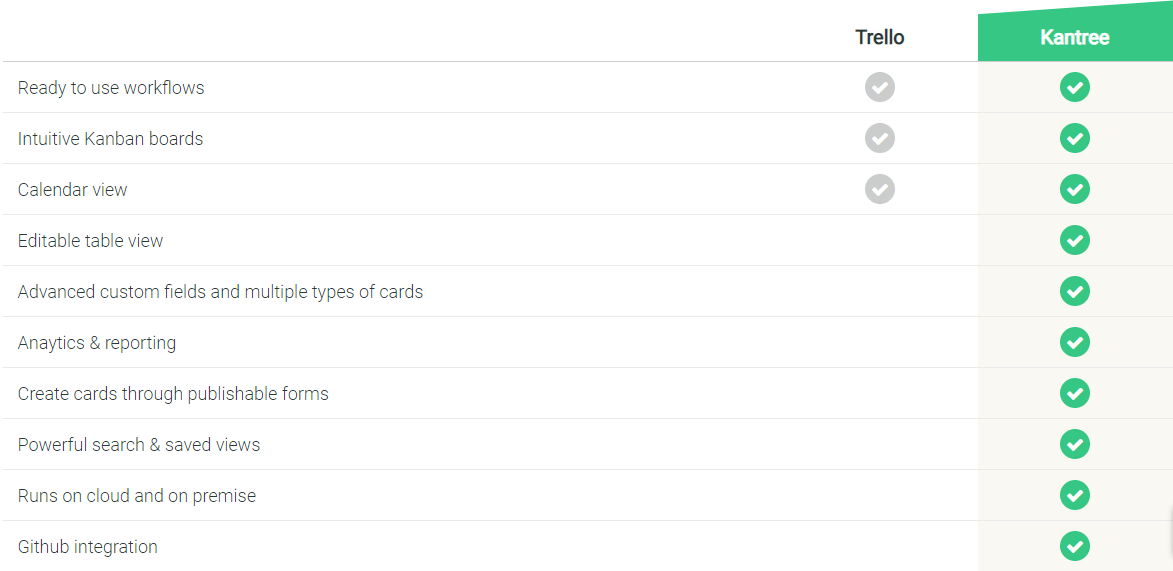 Ready to upgrade your project management? Switching from Trello is easy!
All you have to do is import your previous projects, invite the team, and resume work as usual! Try Kantree free for 15 days and see the difference! Questions? Email us.
---