Giving you more power: introducing Excel-style formula attributes
12/09/2018 - Updated on 25/10/2021 - Jérémy
We are happy to introduce the formula attribute in Kantree. This is a powerful new type of attribute that allows you to compute a value based on other card attributes or properties. This brings a completely new way of retrieving meaningful information from your cards!
Set a formula in your cards.
As any other attributes, formula should be added to the structure of your cards or to a card model. To create a query for your formula attribute, you should master our internal query language (Learn everything you should know about it in our guide). There isn't any autocomplete feature available yet but we will add it soon.
Here we're setting up a Total Cost attribute based on our Price and Quantity.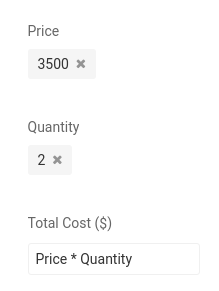 Now, Total Cost computation will be automatically done for all cards that have acces to this attribute!

Formula attributes can be used in other formula attributes or in project reports. You can then further automate your projects.
Using Formulas
For the moment, formula attributes are best used in combination with other number attributes, like in our example above. However we do already extensively support all the features of our query language! This could help you:
compute Eisenhower priority based on the urgency and importance of your tasks.
count remaining days before due date
generate the expected revenue of a sale negociation based on the probability of closing the deal
and much more!
---
We are excited to see which awesome things you will do with this new formula attribute.
Feel free to give us feedback by email or on twitter @kantreeapp. We will continue to expand the possibilities of our query language to handle more and more use cases.
Stay tuned for more new features to come!
---