03/06/2016 - Updated on 19/07/2023 - Team Kantree
In our effort to make Kantree always faster, better and to provide the best user experience, we've released a large upgrade which fixes a lot of small issues. While these upgrades are mostly under the hood, you will notice a few new features.
Dock the card view on the right
We've added the possibility to dock the card view to the right of the screen when you're in a project. This is great for wide screens as you can visualize your board next to a card and switch between cards much faster.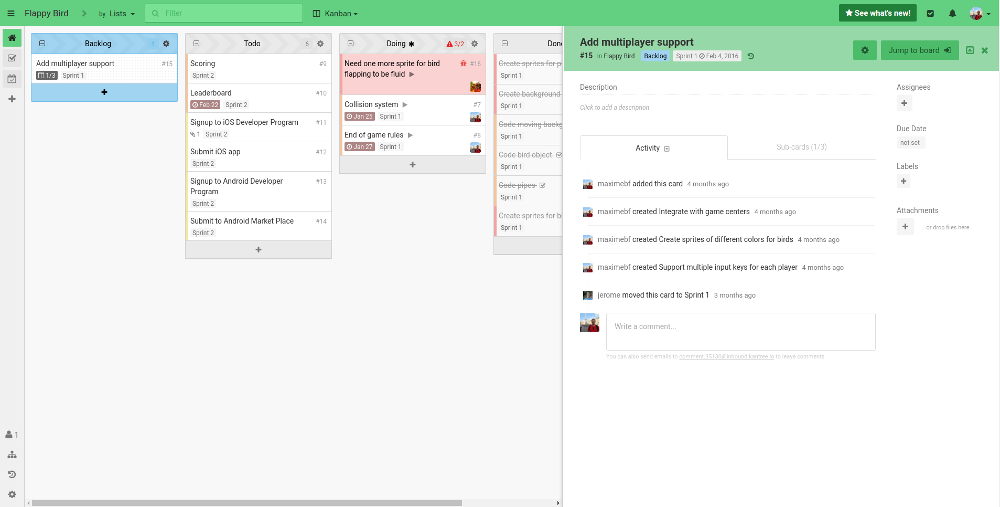 You can switch between docked and modal mode using the button in the upper right corner of the card view.
Stats on Kanban columns
On the Kanban view, we have added a small indicator in the upper right corner with the number of cards present in the column. If you click on it, it will open a small panel with a progress bar indicating the completeness of tasks in the column.
It will also display the sum of values from any number attributes in cards of the column. This is especially useful for SCRUM practitioners as you can now quickly visualize how much points is worth a column.
Control which attributes appear on card tiles
You can now configure which attributes should appear on a card tiles. This can be done from the model editor using the Show on card tile option.
API
We have finally opened our API to everybody. We provide a Swagger spec file for easy integration. You can browse the reference and have fun with the API online.
For the moment, we only provide authentication via an API key but we're planning to add support for oAuth 2.0 soon.
Additionally, you can sign up for our Zapier integration beta by sending us an email at contact@kantree.io.
Improved documentation
Our Help site has been updated with documentation for the self-hosted version and an introduction to our API.
As always, you can track what we're working on on our roadmap.
---