Kantree 4.0: Release notes
17/10/2016 - Updated on 18/07/2023 - Jérémy
In this update, we've been focusing on improving the user experience of existing features, while doing some invisible work to prepare our future multi-project set of tools.
From the very beginning, Kantree has been designed to be accessible and useful to anyone, whatever their background or profession. That's why we've set a high priority on simplicity. But down the road, we have lost sight of this goal a few times and some features which should have enhanced the flexibility of Kantree didn't reach their goal because they were hidden in complex settings panels.
So this summer we put some efforts into fixing this (merging structure and data, learn more in our previous post) to bring you some new features that enhance the overall experience.
Simplifying the edition of card models
Card models are now editable from your cards. Add custom fields and edit the layout of your cards directly in the card view.
Custom card fields were one of the first feature in Kantree we could have designed better. Basically, you can add new fields in your cards by creating different card models. These card models also add a custom color and icon to your cards so that you can find them easily in your projects. However, the card models editor was hidden too deep in our settings panels and not easy to use.
We decided to put these card models in the light by enabling card model edition directly from the card view.
Click the new "Add attribute" button in a card and select the type of field you want. It will be added instantly to the model of your card and ready to be use in this card but also in all the cards that share this model.
But we didn't stop here. You can also edit all your attributes there. Simply hover an attribute to make their edit buttons appear. You will be able to modify the name and the description of your attributes or delete them. Be aware that all this changes will be replicated to all the cards that share the same card model.
Of course, all of this can only be done by the project admin members.
Finally the model of your card is now visible in the header of the card view. Click on it to quickly switch to another model or to create a new one.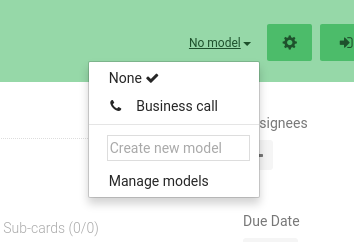 Rich text editor: (almost) MS word in your cards
We now provide a rich text editor for your comments and descriptions. Format your text easily without learning the markdown syntax.
As we were focusing on customization in Kantree, we didn't give too much love to our text editor. However, it is an important part of collaboration tools as we rely heavily on written communication.
We have been supporting the markdown format since the beginning but it seems it is not so popular outside the tech world. We've now added to Kantree a rich text editor for your comments and your descriptions (and other rich text attributes).
For now, it provides the basic controls to write beautiful text.
We've also added auto-complete of user mentions (try typing @ in the text editor):
Mentioned users will receive an email as soon as the comment is posted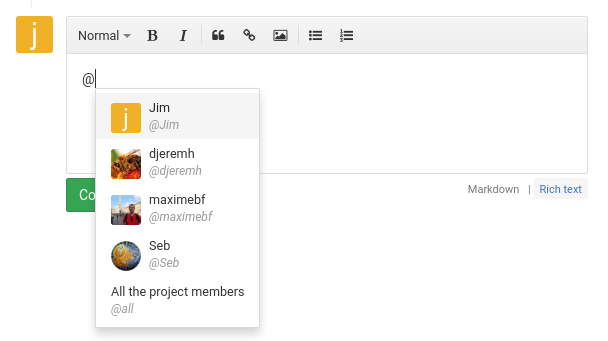 There will be more to come in the next releases. Don't hesitate to tell us what you think or what options you want us to add in.
Updates to the table view
Card attributes are now directly editable from the table view
The table view has been quiet since its release in late 2015, but that doesn't mean we have no plan for it. Today, as a preparation for future releases, we are enabling attribute edition directly from the cells of the table. Now you only have to click on a cell to edit its content and change the attributes of a card.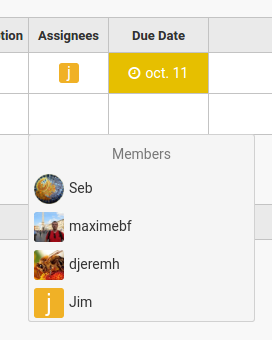 Improvements to card states
Card state relationship with groups is now more explicit
States are important in Kantree as they help us understand the meaning of your columns and build analytics and charts for your projects. Using them is kind of mandatory if you want to properly keep track of your work. It was already possible to link states with groups, so that when you drop a card in a column, its state is updated automatically. In this update, we made explicit that a group serves as an alias of a card state.
You will find it in the card state menu.
More will be done in the next releases to continue on the path of simplicity.
Group types are renamed to contexts
We have always seen the type of groups as a tool to create different contexts within a project. They help to have different points of view on a project, like grouping your cards by their state in your workflow, by assignees, by labels etc.
So to make it clearer, we are renaming "group types" to "context".
Simplifying card models and context management
We made a lot of changes to simplify the way models and contexts are managed. With the new interface it becomes simpler to understand how to create and modify models and contexts for your projects.
The default template
You will now find a "Default Template" in your templates section of your organization. New projects will now use this template by default. It is now much easier to configure the default settings for your projects by editing the template.
Note that once created, a project is not impacted if the template settings change
New on-boarding experience
Kantree becomes really awesome when you begin to understand its core concepts and how it allows complete flexibility on how you manage your projects.
We now provide an on-boarding tour to all the new users. If you want to experience it, you will find it in the user account menu.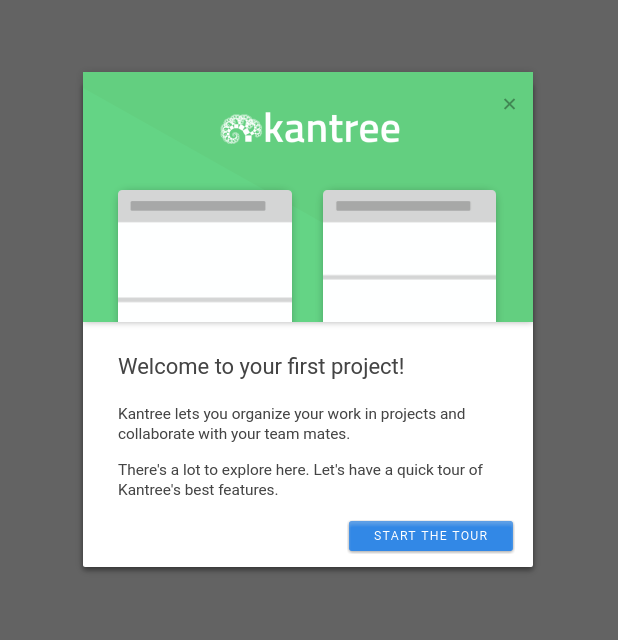 On the road to multi-project management
We began to work on multi-project management inside Kantree. It will be our main focus until the end of the year, so stay tuned and don't hesitate to give us feedback on how you are doing multi-project management in your team.
---