Manage you user account
Change your info
The user account is accessible from the top right corner of Kantree. Click on your avatar, then on Account.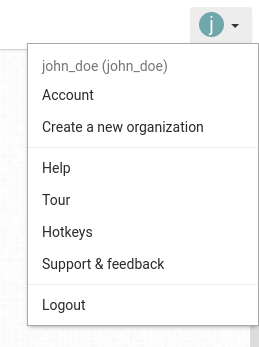 The user page looks like this: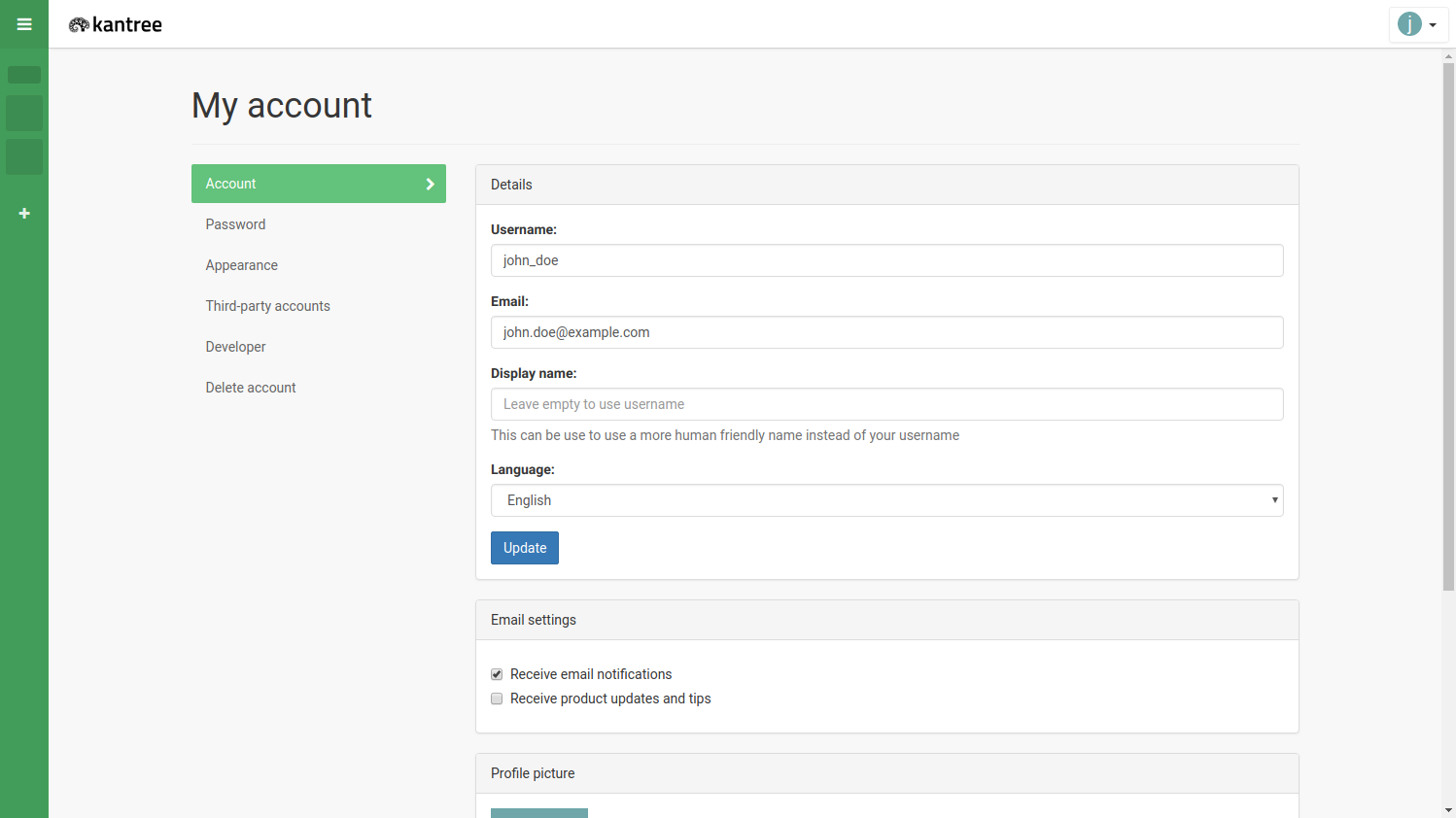 This is where you can change your username, display name, or email.
Kantree supports English, French, German, Spanish, Italian and Portuguese.
You can also choose your profile picture from this page. By default, it will be the first letter of your username with a random color.
Change your password
You can change your password from the dedicated section on the user page.

Delete your account
You can delete your account from the user page. It can't be restored then.
Create user public project
In Kantree Enterprise you can enable user's project creation
Card models and contexts, outside teams are linked to your user account and can be shared between all the user's public projects.
Clear offline data
If you noticed a bug in your data in a project, sometimes it can come from corrupted cached data for the offline mode. You can clear them in your user account page, and it may fix the bug.
Please, be assured that any of your data will be safe, only cached data from your browser will be cleared.
Report a bug or request a feature
In the the top right user menu, you will find Feedback and support.
A popup will appear if you click on it.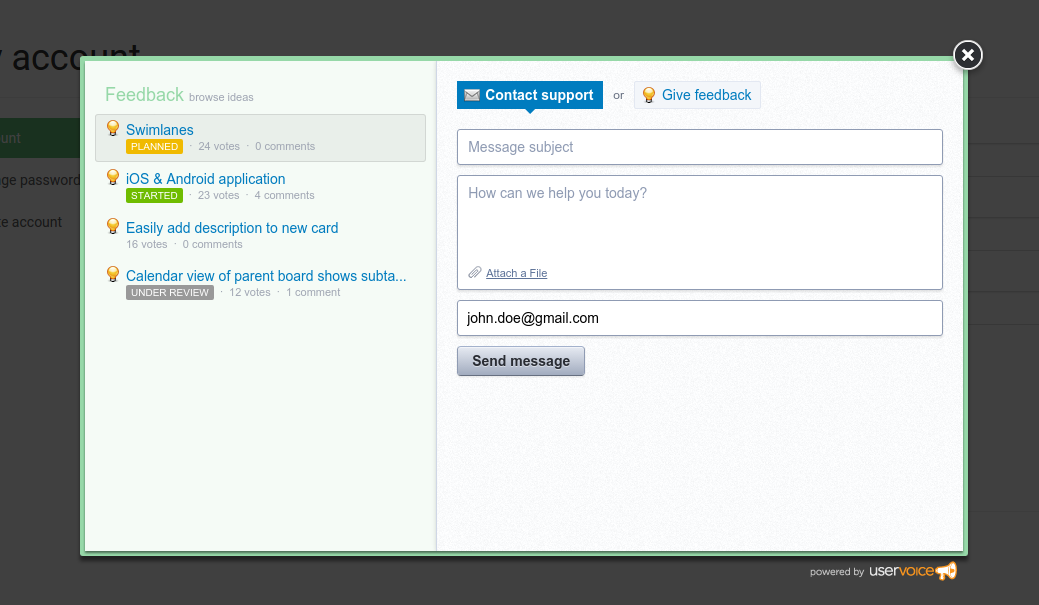 Don't hesitate to send us any feedback or report any bug in this popup, we will answer as soon as possible.
Browser support
Kantree is compatible with the latest versions of Chrome, Firefox 38+, Edge, latest versions of Safari and latest versions of Chrome for android.
We're not fixing issues coming from older browsers, and we are using more and more pieces of software which have dropped their support to them.
Use your dashboard
When you login you will arrive on your dashboard.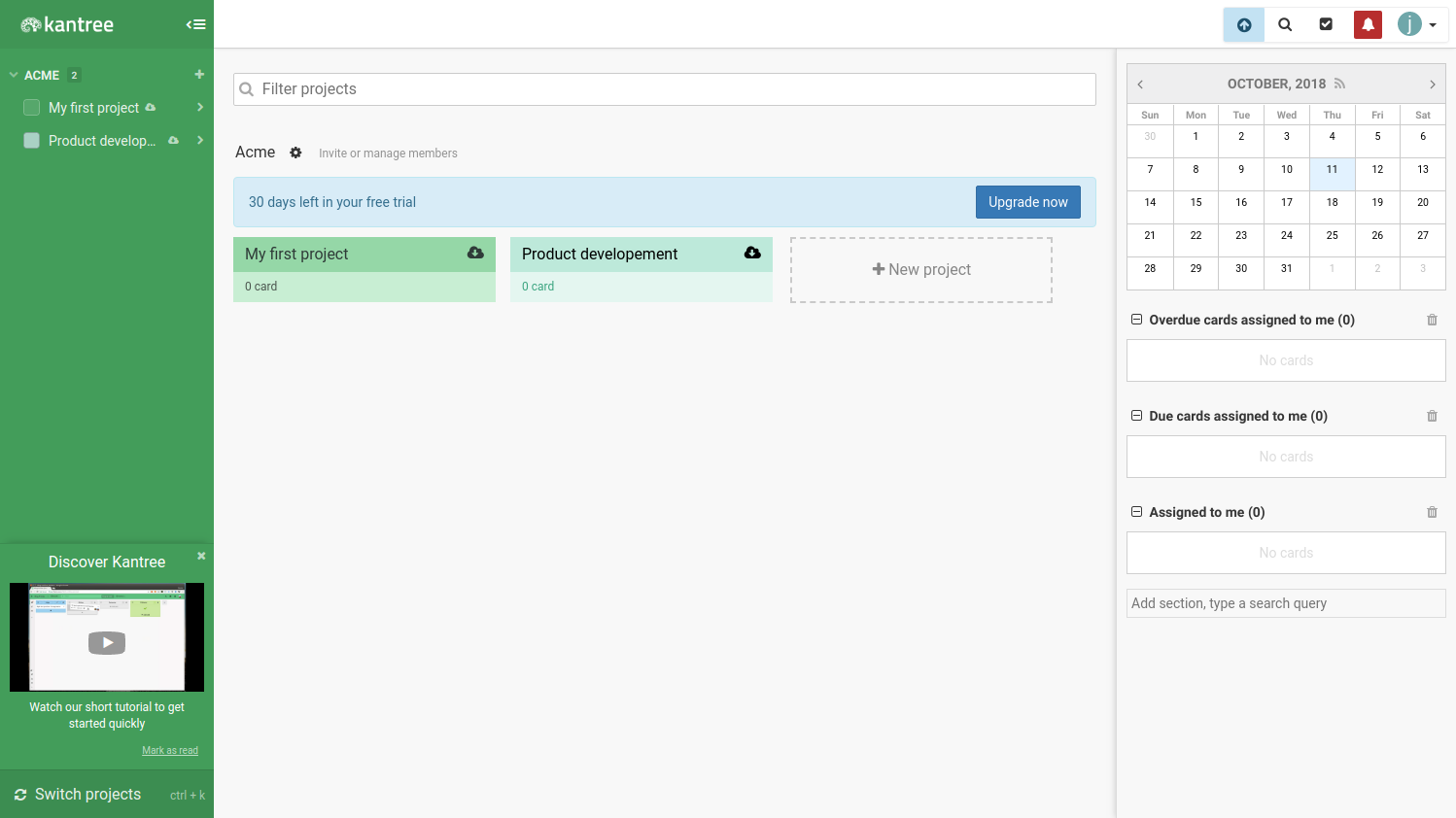 Project sections
The main content is a list of all the projects you contribute to.
The first section is containing your pinned projects (see how to pinned projects or cards).
The following one is containing your private project (if you have permissions to create private projects).
Then you will find the shared projects where you've been invited as a guest.
And finally you will find every project of every team you're member of, sort by name.
You can filter your projects using the dedicated fields at the top of the page, to quickly find the ones you're looking for.
By clicking on the name of the team you will navigate to the team pages. Next to their name, you'll find a quick access menu.
Right-click on projects to access specific settings and actions.
Card sections
In the card section, you will find a calendar which display by a small green circle the due dates of cards you're assigned to.
Click on one of the day and a list of all the due cards will appear on the search menu in the navbar.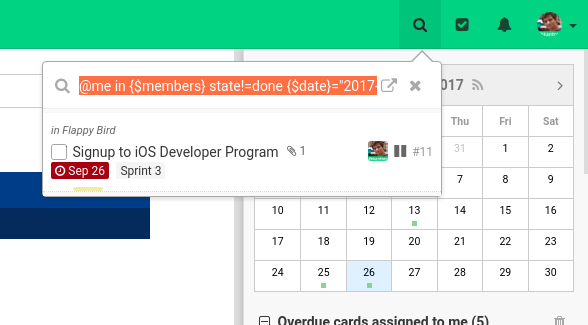 See the query used to find the due cards of the day? You can use this query to create card sections, or to add widgets in your projects' reports.
You can get the iCal feed of this calendar. Add this feed in your favorite calendar app like outlook or google calendar.
Below you'll find card sections.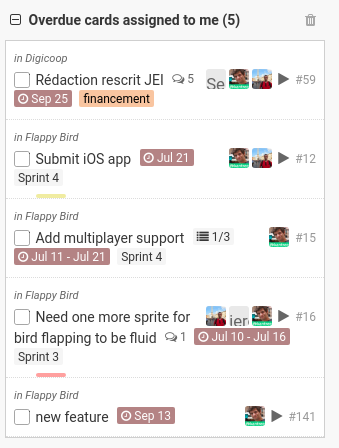 There are 3 default sections :
Overdue cards assigned to me
Due cards assigned to me
Assigned to me
Click on the checkbox, and the cards will be mark as done, including in the project they belongs to.
You can add your own sections leveraging the power of our query language KQL (see how to create query with KQL)
Every section can be deleted.
You can reorder them by drag and drop.
Navbar menus
In the navbar, you will find menus which will help you in your daily activities in Kantree.

The search box
The magnifying glass gives you access to a global search in all the projets you will participate to.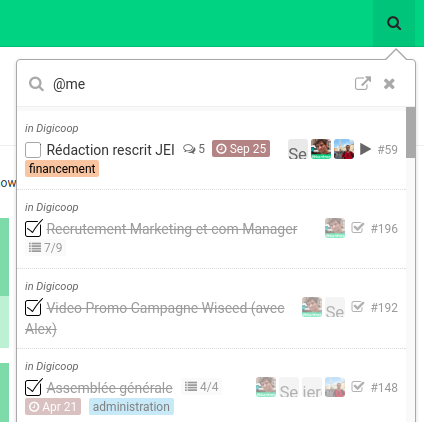 If you click on the magnifying glass or on the undock icon, you will access the search page, in which you will see the results of your search.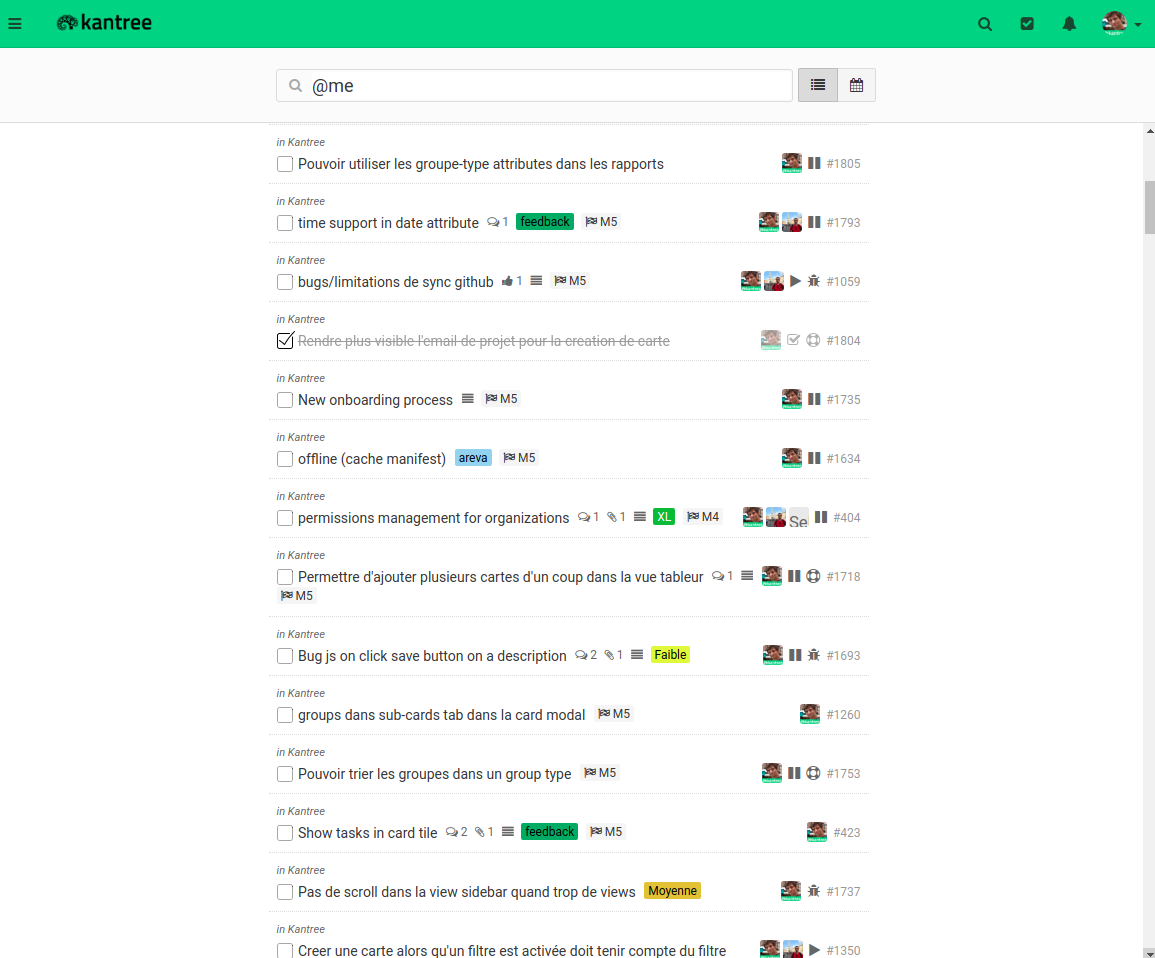 You can also display the results in a calendar.
You can get the iCal feed of this calendar. Add this feed in your favorite calendar app like outlook or google calendar.
My work
The checkbox icon give you access to the same content than the dashboard sidebar, You'll find a calendar with the cards you're assigned to, and some lists of cards (overdue and due cards, and cards you're assigned to).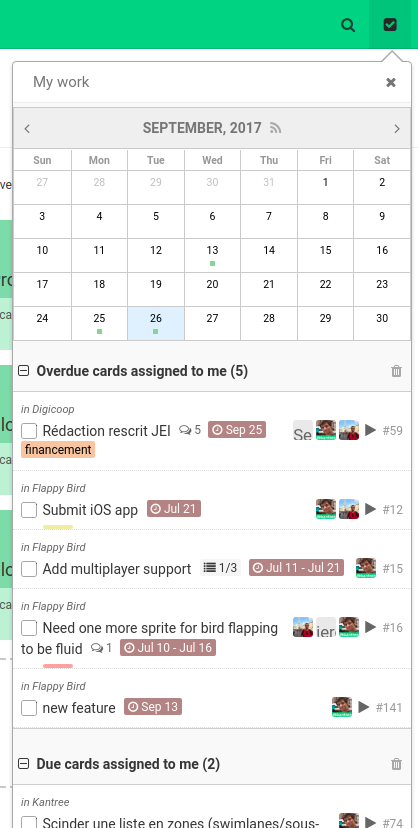 Notifications
The notification menu will give you access to the last updates on cards you follow (see how to subscribe to cards and how the notifications works)

User menu
In this menu you can access your user account, create new team, or access to help and support pages.
Kantree admins will have access to specific pages which let you manage your Kantree instance.
You can also logout.